Dimmable Ballasts | T5 | Electronic Fluorescent

Advance Optanium Step-Dim IOP-2S2895-SCSD
(2) Lamp - F28T5 - 120/277 Volt - Programmed Start - 0.95 Ballast Factor - Dimming
Family: Optanium Step-Dim
Safety Rating: UL Indoor/Outdoor
Voltage: 120
Ballast Factor: 0.95
Start Temp. (Min): 32 Deg. F
Power Factor: 98%
Start Method: Programmed Start
THD: 10%
CSA Listed: Yes
Length: 9.5 in.
Height: 1.18 in.
Width: 1.7 in.
Weight: 0.4 lb.
Warranty: 3 to 5 Years
Case Quantity: 20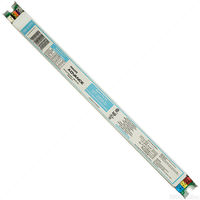 Advance Mark 7 0-10V IZT2S54D35M
(2) Lamp - F54T5/HO - 120/277 Volt - Programmed Start - 1.0 Ballast Factor - Dimming
UPC: 781087107331
Safety Rating: UL Indoor/Dry Location
Ballast Factor: 1
Start Temp. (Min): 50 Deg. F
Power Factor: 98%
Start Method: Programmed Start
THD: 10%
Type: Electronic Fluorescent
CSA Listed: Yes
Warranty: 5 Years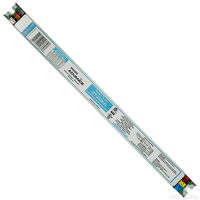 Advance Mark 7 0-10V IZT2S28D
(2) Lamp - F14T5 - 120/277 Volt - Programmed Start - 1.0 Ballast Factor - Dimming
Safety Rating: UL Indoor
Voltage: 120
Ballast Factor: 1
Power Factor: 98%
Start Method: Programmed Start
THD: 10%
Warranty: 5 Years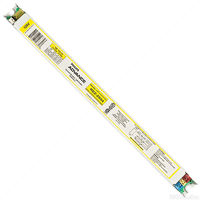 Advance Mark 10 Powerline REZ-2S54
(2) Lamp - 54 Watt CFL - 120 Volt - Programmed Start - 1.0 Ballast Factor - Dimming
Family: Mark 10 Powerline
Safety Rating: UL Indoor/Dry Location
Wattage: 54 Watt
Voltage: 120
Ballast Factor: 1
Start Temp. (Min): 50 Deg. F
Power Factor: 98%
Start Method: Programmed Start
THD: 10%
CSA Listed: Yes
Length: 16.7 in.
Height: 1 in.
Width: 1.18 in.
Weight: 0.95 lb.
Warranty: 5 Years
Dimmable T5 ballasts operate two F14T5, F28T5, or F54T5/HO lamps using the programmed start method. These ballasts preheat the cathodes fully before starting the lamps, helping increase the life span of the lamps. Dimmable ballasts can be paired with motion and occupancy sensors to further lengthen lamp life. T5 ballasts are used in a variety of applications including retail stores, offices, and board rooms. Outdoor rated dimmable T5 ballasts are suitable for applications outside as long as the ballast is protected from the elements.
What is Step Dimming?
While many dimmable T5 ballasts use 0-10 Volt dimming, there are some that use step-dimming. Ballasts using step-dimming adjust the light level down to preset increments. For example, dimmable ballasts can start the lamp at 100 percent brightness, then drop down to 75 percent or 50 percent brightness. These large jumps can be very noticeable and sometimes distracting in work areas. This type of dimming is better suited for locations where lights need to be on but don't have to be at full brightness all the time, such as stairwells.
Need advice on finding the right dimmable ballast for your applications? A member of our customer support staff is here to help. Call 1-800-624-4488 for assistance today!