Fluorescent Troffer Fixtures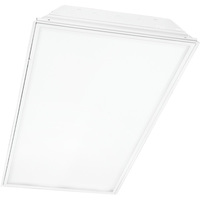 Low Profile Fluorescent Troffer
4 Lamp - F32T8 - Length 48 in. x Width 23.75 in. - 120-277V - Lamps Sold Separately - 3 Year Warranty
Safety Rating: UL
Voltage: 120, 208, 240, 277
Lighting Technology: Fluorescent
Operates: (4) F32T8
Lens: Prismatic Acrylic
Warranty: 5 Years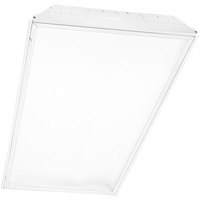 Lithonia GT3 MV - Low Profile Fluorescent Troffer
3 Lamp - F32T8 - Length 48 in. - Width 24 in. - 120-277V - Lamps Sold Separately - 2 Year Warranty
Safety Rating: UL
Voltage: 120, 208, 240, 277
Lighting Technology: Fluorescent
Mounting: Recessed
Operates: (3) F32T8 Lamps

Lithonia GT4 MV - Low Profile Fluorescent Troffer
4 Lamp - F32T8 - Length 48 in. x Width 24 in. - 120-277V - Lamps Sold Separately - 2 Year Warranty
Safety Rating: UL
Voltage: 120, 208, 240, 277
Mounting: Recessed
Operates: (4) F32T8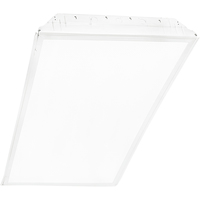 Lithonia 184AG3 - Low Profile Fluorescent Troffer
3 Lamp - F32T8 - Length 48 in. x Width 24 in. - 120-277V - 4100 Kelvin Lamps Included - Pre-Wired - 2 Year Warranty
Safety Rating: UL
Wattage: 32 Watt
Lumens: 8,550
Voltage: 120, 208, 240, 277
Bulbs Included: Yes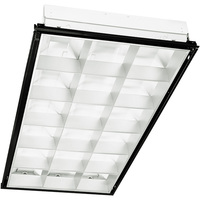 Lithonia PT3 - Parabolic Fluorescent Troffer
3 Lamp - F32T8 - Length 48 in. x Width 24 in. - 120-277V - Lamps Sold Separately - 2 Year Warranty
Family: Parabolic
Safety Rating: UL
Voltage: 120, 208, 240, 277
Lighting Technology: Fluorescent
Mounting: Recessed
Operates: (3) F32T8 Lamps
Warranty: 2 Years

Lithonia PT2 - Parabolic Fluorescent Troffer
2 Lamp - FB32T8 - Length 24 in. x Width 24 in. - 120-277V - Lamps Sold Separately - 2 Year Warranty
Safety Rating: UL
Voltage: 120, 208, 240, 277
Ballast Type: Electronic
Lighting Technology: Fluorescent
Mounting: Recessed
Operates: (2) 32 Watt U-Bend Lamps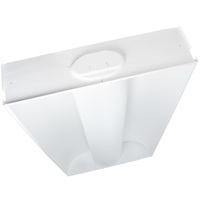 Low Profile Fluorescent Troffer
120-277 Volt - Eaton 2RDI-332RP-UNV-EB81-U
Safety Rating: UL
Voltage: 120, 208, 240, 277
Operates: (3) F32T8
Weight: 30 lbs.
Warranty: 1 Year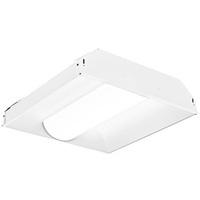 Lithonia 2AV - Low Profile Fluorescent Troffer
2 Lamp - F17T8 - Length 24 in. x Width 24 in. - 120-277V - Lamps Sold Separately - 1 Year Warranty
Safety Rating: UL
Voltage: 120, 208, 240, 277
Lighting Technology: Fluorescent
Mounting: Recessed
Operates: (2) F17T8 Lamps
Height: 5.5 in.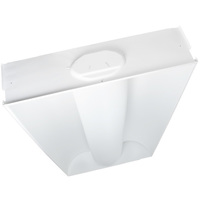 Low Profile Fluorescent Troffer
Recessed - 120-277 Volt - Eaton 2RDI-232RP-UNV-EB81-U
Safety Rating: UL
Wattage: 32 Watt
Voltage: 120, 208, 240, 277
Lighting Technology: Fluorescent
Number of Lamps: 2
CSA Listed: Yes

Lay-In Troffers - Fluorescent
Whether you're looking for 2-lamp, 3-lamp or 4-lamp lay-in troffers, you'll find the T8 bulb fixtures you need for your commercial and industrial applications. Choose from a wide variety of lengths, widths, wattages, and lens types to fit your needs. These troffers are available with or without bulbs included to give you the option of customizing your lighting design. Available in parabolic or volumetric styles, find your perfect fluorescent troffer at 1000Bulbs.com. If you need additional assistance in deciding what's best for you, don't hesitate to call us at 1-800-624-4488 to speak with one of our account managers.