LED S14 Bulbs on Clearance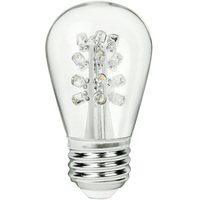 LED S14 Bulb - 0.7 Watt - 15 Watt Equal
85 Lumens - 2900 Kelvin - Halogen Match - Clear - 120 Volt - PLT LEDGS14WW
Life Hours: 25,000
LPW: 142
Height: 3.5 in.
Diameter: 1.75 in.
Warranty: 1 Year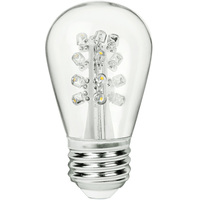 LED S14 Bulb - 0.7 Watt - 15 Watt Equal
85 Lumens - 6500 Kelvin - Full Spectrum - Clear - 120 Volt - PLT LEDGS14WH
Life Hours: 15,000
LPW: 121
Height: 3.5 in.
Diameter: 1.75 in.
LED S14 Bulbs
It has never been easier to find the clearance LED S14 bulbs you need. Filled to the brim with sale items, 1000Bulbs.com has the lowest prices around. Discover discounted lights with color temperatures ranging from 2700K to 5000K so you can illuminate your space to the perfect brightness. In addition, you can choose between different brands, bulb shapes and wattages for more customization. LED light bulbs are available in incandescent equals between 11 and 40 watts, all while using a fraction of the energy. And since they're long-lasting, you'll enjoy life hours up to 50,000 hours. Offering you the absolute best deals on the LED light bulbs you've been searching for, 1000Bulbs.com makes illuminating your home or office easy.