Lighting Sockets | Polished Nickel Light Sockets
On-Off Knob Socket - Nickel Finish - Medium Base
250 Watt Maximum - 250 Volt Maximum - 1/8 IPS - PLT 40-0042-20
Maximum Wattage: 250 Watt
Maximum Voltage: 250 Volt
Height: 2.75 in.
Case Quantity: 10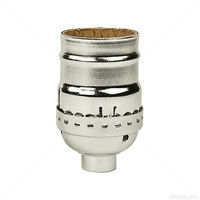 Standard Household Base - Short Keyless Socket
Polished Nickel - 1/8 in. Inside Diameter - Fits Non Threaded Lamp Pipe - PLT D17
Maximum Wattage: 660 Watt
Maximum Voltage: 120 Volt
On-Off Pull Chain Socket - Nickel Finish
660 Watt Maximum - Medium Base - 1/8 IPS Without Screw Set - PLT 80-1007
Maximum Wattage: 660 Watt
Maximum Voltage: 250 Volt
Height: 2.75 in.
Case Quantity: 250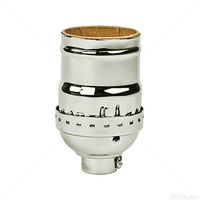 Short Keyless Socket - Polished Nickel Finish
660 Watt Maximum - Medium Base - 3 Piece - 1/8 IPS With Screw Set - PLT 90-1671
Maximum Wattage: 660 Watt
Maximum Voltage: 250 Volt
Height: 2.25 in.
Case Quantity: 250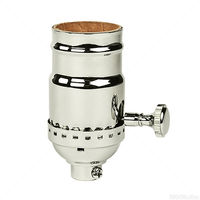 3 Way (2 Circuit) Turn Knob Socket - Polished Nickel Finish
250 Watt Maximum - 3 Piece - Medium Base - 1/8 IPS With Screw Set - PLT 90-1669
Maximum Wattage: 250 Watt
Maximum Voltage: 250 Volt
Height: 2.75 in.
Case Quantity: 250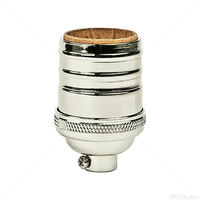 Short Keyless Socket - Polished Nickel Finish
660 Watt Maximum - Medium Base - 4 Piece - 1/8 IPS With Screw Set - PLT 80-1055
Maximum Wattage: 660 Watt
Maximum Voltage: 250 Volt
Height: 2.25 in.
Case Quantity: 100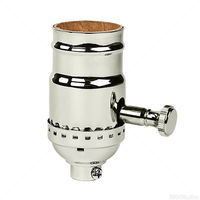 Turn Knob Dimmer Socket - Polished Nickel Finish
150 Watt Maximum - Medium Base - 1/8 IPS With Screw Set - PLT 40-5856-20
Dimmable: Yes
Maximum Wattage: 150 Watts
Maximum Voltage: 120 Volt
Ratings and Certifications: CSA, UL Indoor
Finish: Polished Nickel
Material: Stamped Solid Brass
Socket Type: Medium (E26)
Cap: 1/8 IPS
Terminal: Screw
Height: 2.75 in.
Diameter: 1.5 in.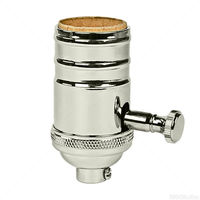 Turn Knob Dimmer Socket - Polished Nickel Finish
150 Watt Maximum - Medium Base - 1/8 IPS With Screw Set - PLT 40-0692-20
Maximum Wattage: 150 Watts
Maximum Voltage: 125 Volt
Height: 2.88 in.
Case Quantity: 10
Nickel Light Sockets
There are turn-knob lamp sockets, there are dimmable lamp sockets, and then there are keyless lamp sockets. These operate without the use of a switch next to the light bulb. Instead, the lamp socket is able to power the light directly at the bulb. The dimmable lamp sockets, by contrast, have the capacity for full-range dimming, from 0 to 100 percent, using a turn-knob control that allows users to set the perfect mood no matter the occasion. 1000Bulbs.com has several nickel sockets to choose from at prices that won't be beat anywhere else on the Internet.