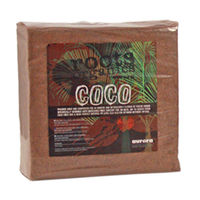 Growing Media - Compressed Coco Fiber - 5 Kg
Hydroponic Substrate - Roots Organics ROCB
Safety Rating: N/A
Bag Size: 5 Kg
Type: Coco Based
Length: 12 in.
Height: 6 in.
Width: 12 in.
Weight: 12 lbs.

A-OK Starter Grow Plugs - 2 in.
Stonewool - 50 Plugs Per Sheet - Grodan 713030
Safety Rating: N/A
Plugs: 50
Type: Grow Plugs, Stonewool
Rockwool, Potting Soil, Coco, Clay Rocks, Growstones
Rockwool/Stonewool
Rockwool/Stonewool
is a fibrous horticultural grow media made from melted-and-spun Basalt rock. Rockwool/stonewool substrates allow for the perfect air-to-water ratio, creating an optimal growing environment for plants.
Coco
Made from coconut husks,
Coco
supplies the perfect amount of aeration and moisture to your plants. All our coco substrates are made from top-quality husks.
Potting Soil
Our
Soil
collection contains superior nutrient-rich blends with carefully regulated pH levels. Key ingredients in our mixes include bat guano, earthworm castings, and crab meal.
Growstone
Growstone
is an earth-friendly, recycled-glass grow medium. Free of toxins or harmful chemicals, growstone is an excellent all-natural substrate that is impossible to overwater. It's also clean and very lightweight.
Clay Rocks
Clay Rocks
are ideal for decoration, better aeration, and greater water drainage in your garden. Use in flood and drain systems, deep water culture systems, drip feed systems, and aquaponic systems.