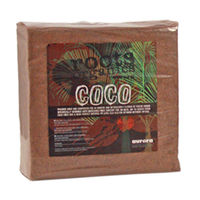 Growing Media - Compressed Coco Fiber - 5 Kg
Hydroponic Substrate - Roots Organics ROCB
Safety Rating: N/A
Bag Size: 5 Kg
Type: Coco Based
Length: 12 in.
Height: 6 in.
Width: 12 in.
Weight: 12 lbs.

A-OK Starter Grow Plugs - 2 in.
Stonewool - 50 Plugs Per Sheet - Grodan 713030
Safety Rating: N/A
Plugs: 50
Type: Grow Plugs, Stonewool
Rockwool and Coco
Rockwool/Stonewool
Rockwool/Stonewool is a fibrous horticultural grow media made from melted-and-spun Basalt rock. Rockwool/stonewool substrates allow for the perfect air-to-water ratio, creating an optimal growing environment for plants.
Coco
Made from coconut husks, Coco supplies the perfect amount of aeration and moisture to your plants. All our coco substrates are made from top-quality husks.