Rayon Covered Parallel Cord (2 Wire)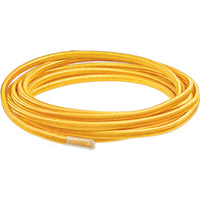 8 ft. - Rayon Antique Wire
Gold - 18/2 SPT-1 - 2 Wire Parallel Cord
Safety Rating: N/A
Color: Gold
Wire Gauge: 18/2
Cord Length: 8 ft.
Wire Type: SPT-1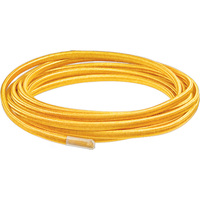 12 ft. - Rayon Antique Wire
Gold - 18/2 SPT-1 - 2 Wire Parallel Cord
Safety Rating: N/A
Color: Gold
Wire Gauge: 18/2
Wire Type: SPT-1
Rayon Antique Wire - 150 ft. Spool
Black - 18/2 SPT-1 - 2 Wire Parallel Cord
Safety Rating: N/A
Color: Black
Wire Gauge: 18 AWG
Cord Length: 150 ft.
Rayon Covered Antique Wire - Parallel
A safe and modern alternative to the silk-wrapped cord used in the 1930s, these rayon covered wires are an excellent addition to vintage lamps and fixtures with exposed wiring. The cloth coverings of these antique wires come in a wide range of colors and lengths so you're sure to find the right parallel cord to suit your needs. While safer than the silk-wrapped cords, rayon covered cord should only be used in low wattage and low voltage applications. Have questions or concerns about where and how to use antique wire? Contact us to speak to our team of experts that are here to help.