Strip and Suspension Lights - Commercial Lighting

2500 Lumens - 20 Watt - 4000 Kelvin - 4 ft. LED Strip Fixture
2 Lamp Fluorescent Equal - 120-277 Volt - Lithonia MNSL
Length Ft: 4 ft.
Height: 1.85 in.
Width: 1.74 in.
Warranty: 5 Years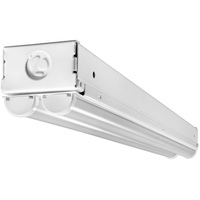 4500 Lumens - 35 Watt - 4000 Kelvin - 4 ft. LED Strip Fixture
3 Lamp Fluorescent Equal - 120-277 Volt - Lithonia MNSL
Length Ft: 4 ft.
Height: 2.16 in.
Width: 2.62 in.
Warranty: 5 Years



Strip Light Fixtures
Looking for a brighter utility light or are you adding on to your garage? Consider investing in a strip light fixture for your lighting needs. Strip light fixtures are available in multiple configurations and lengths, and are suitable for suspension or surface mounting. They can be used in a wide variety of applications including warehouses, indoor storage facilities, and more.
Types of Strip Light Fixtures
1000Bulbs.com carries several types of commercial fixtures:
LED strip light fixtures
LED ready strip light fixtures
Fluorescent strip light fixtures
The most popular are the LED strip light fixtures. Used to replace old fluorescent fixtures, LED strip light fixtures use integrated LEDs to eliminate the need for individual tube lights. Many of our strip fixtures are available in a cool white color temperature light, which helps to reduce eye strain. Some stark white options are available as well for use in areas where a stronger task light is needed. Applications include using a 4-foot LED light fixture to illuminate a work bench or installing 8-foot fixtures in a row to cover the length of a room. You should always check to see if the fixture you have picked out includes mounting accessories or not. We do carry chain hangers if you need them.
LED ready strip light fixtures use direct wire LED tubes. They come in in 1, 2, and 4 lamp configurations. These T8 light fixtures do not come with bulbs. LED tubes can be purchased separately, allowing you to customize the Lumen output (amount of light delivered) and color temperate that you desire to properly light your space. Our LED ready fixtures use single-ended LED tubes. We do not recommend double-ended tubes since that would require rewiring the fixture.
If you are not ready to make the jump to LED lighting or just prefer fluorescents in general, then 1000Bulbs.com has you covered with fluorescent strip lights. Like the LED ready fixtures, these allow you to pick out the linear fluorescent tubes you want. We also carry a few 4 ft. fluorescent light fixtures that have wings in order to better direct the light downward, referred to as industrial strip lights. These are generally used for higher ceilings or higher mounting heights than fixtures without wings such as large storage rooms. You may want to consider high bay lighting instead for areas that have high ceilings. Many of our fluorescent fixtures come unassembled in order to protect the parts during shipping, so some assembly may be required.
Where Can I Use Strip Light Fixtures?
Our commercial fixtures have ratings that tell where they can be safely installed. LED strip light fixtures and retrofit kits are rated for damp locations, meaning areas that may have moisture present in the air such as utility areas and stairwells. Fluorescent and LED ready fixtures are rated for dry locations where no moisture is present.
Are you looking to update your fluorescent lighting and not sure which type of strip light fixture is right for you? Our knowledgeable staff is only a phone call away at 1-800-624-4488.