LED Downlights - 5 to 6 Inch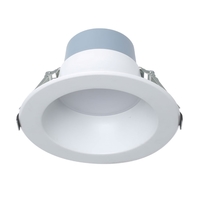 3 Wattages - 3 Lumen Outputs - 3 Colors - Natural Light - 6 in. Selectable LED Downlight
Hardwire - Watts 7-10-18 - Lumens 700-1000-1500 - Kelvin 3000-3500-4000 - Dimmable - 90 CRI - 120-277 Volt - Euri Lighting DLC6C-18W103swej
CRI: High CRI
Outside Diameter: 8.25 in.
Inside Diameter: 4.63 in.
Height: 5.13 in.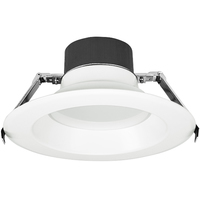 3 Wattages - 3 Lumen Outputs - 3 Colors - Natural Light - 6 in. Selectable LED Downlight Fixture
Hardwire - Watts 10-15-22 - Lumens 900-1350-1950 - Kelvin 3000-4000-5000 - Dimmable - 90 CRI - 120-277 Volt - Halco 82985
CRI: High CRI
Base Type: Hardwire
Outside Diameter: 8.27 in.
Inside Diameter: 5.87 in.
Height: 4.02 in.





5-inch and 6-inch LED Downlights
Available in a wide range of incandescent wattage equivalents, these 5 and 6-inch downlight LED retrofits last longer, turn on to full brightness instantly, and consume less power to help you save money on energy and maintenance costs. This size downlight is a good choice for general illumination in residential applications. Thanks to their superior integrated LEDs, our selection of LED downlight modules are available in a variety of Lumen outputs and color temperatures including warm white lights that resemble traditional incandescent and halogen bulbs as well as cooler white lights proven to reduce eye strain. Not sure which size, brightness, or color to use in your home or office? Give us a call at 1-800-624-4488 to speak to one of our lighting experts.