Commercial LED Downlights with High Output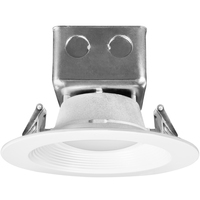 6 in. Retrofit LED Downlight - 15W
75W Equal - 1100 Lumens - 5000 Kelvin - Stepped Baffle Trim - 120V
Life Hours: 50,000
Outside Diameter: 7.3 in.
Inside Diameter: 5.5 in.
Height: 4.69 in.
Warranty: 3 Years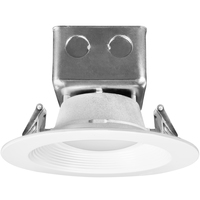 6 in. Retrofit LED Downlight - 15W
75W Equal - 1000 Lumens - 3000 Kelvin - Stepped Baffle Trim - 120V
Life Hours: 50,000
Outside Diameter: 7.3 in.
Inside Diameter: 5.5 in.
Height: 4.69 in.
Warranty: 3 Years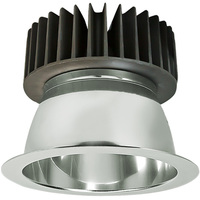 2000 Lumens - 6 in. LED Downlight - 25 Watt - 100 Watt Equal - 5000 Kelvin
Smooth Baffle Trim - 120-277 Volt - PLT-20217
Life Hours: 48,000
Outside Diameter: 7.6 in.
Inside Diameter: 5.8 in.
Height: 6 in.
Warranty: 3 Years


Where to Use Commercial LED Downlights
Commercial LED downlights can be used in a wide variety of applications including malls, hospitals, offices, and airports. Since there are no bulbs to replace, these fixtures are popular choices for hard to reach areas. Before purchasing commercial LED downlights, make sure to check the location ratings so you know what conditions the fixtures can be used in. Downlights rated for damp locations can be used in areas with moisture or humidity such as restrooms, but should not come into direct contact with water. For areas where water may be present, look for downlights rated for wet locations.
Using a fraction of the energy that similar incandescent downlight fixtures use, commercial LED downlights reduce energy costs and last far longer. These fixtures come in a variety of sizes with housing diameters ranging from 4 to 10 inches. Some commercial LED downlights have adjustable wattage and Lumen outputs that can be set before installation. Fixtures emitting a high CRI light make colors appear brighter and more accurate. Dimmable commercial LED downlights allow you to adjust the light output as needed. To take advantage of additional savings, choose downlights that are Energy Star certified.
IC Rated vs Non-IC Rated
Commercial LED downlights are available in two types: IC rated and Non-IC rated. IC rated downlights can be used in areas where the downlight will come into direct contact with insulation. These downlights are designed with better heat distribution so the housing doesn't get as hot. Commercial IC rated LED downlights are primarily used for new construction, though fixtures can be used for remodeling as well.
Commercial LED downlights that are Non-IC rated cannot come into any contact with insulation. There needs be at least 3 inches of space between insulation and the housing. Insulation and other materials coming into direct contact with the housing are at risk of igniting since these fixtures cannot dissipate heat as well. Use Non-IC rated downlights for remodeling projects.
For assistance selecting the right commercial LED downlights for your project, call 1-800-624-4488 to speak with a product expert!