Plusrite 3302 - 20 Watt - T3
G4 Base - Halogen - Clear - 2,000 Life Hours - 350 Lumens - 2800K - 12 Volt
Bulb Shape: T3
Safety Rating:
Life Hours: 2,000
Wattage: 20 Watt
Lumens: 350
Voltage: 12
Base Type: 2-Pin G4
Case Quantity: 100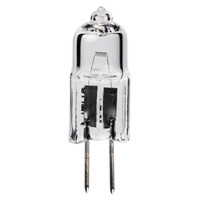 Plusrite 3301 - 10 Watt - T3
G4 Base - Halogen - Clear - 2,000 Life Hours - 160 Lumens - 2800K - 12 Volt
Bulb Shape: T3
Safety Rating:
Life Hours: 2,000
Wattage: 10 Watt
Lumens: 160
Voltage: 12
Base Type: 2-Pin G4
Case Quantity: 100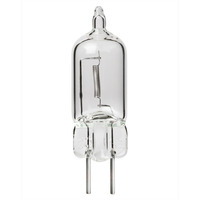 Plusrite 3305 - 35 Watt - T3
G6.35 Base - Halogen - Clear - 2,000 Life Hours - 595 Lumens - 2800K - 12 Volt
Bulb Shape: T3
Safety Rating:
Life Hours: 2,000
Wattage: 35 Watt
Lumens: 595
Voltage: 12
Base Type: G6.35
Case Quantity: 100

Plusrite 3306 - 50 Watt - T3
G6.35 Base - Halogen - Clear - 2,000 Life Hours - 900 Lumens - 2800K - 12 Volt
Bulb Shape: T3
Safety Rating:
Life Hours: 2,000
Wattage: 50 Watt
Lumens: 900
Voltage: 12
Base Type: G6.35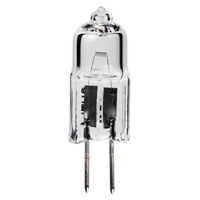 Halco 107009 - 20 Watt - T4
G6.35 Base - Halogen - Clear - 3,000 Life Hours - 300 Lumens - 2800K - 12 Volt
Bulb Shape: T4
Safety Rating:
Life Hours: 3,000
Wattage: 20 Watt
Lumens: 300
Voltage: 12
Base Type: G6.35
Case Quantity: 10


Hikari JC-5009 - 5 Watt - T2.75
G4 Base - Halogen - Clear - 2,000 Life Hours - 60 Lumens - 2800K - 12 Volt
Bulb Shape: T2.75
Safety Rating:
Life Hours: 2,000
Wattage: 5 Watt
Lumens: 60
Voltage: 12
Base Type: 2-Pin G4
Case Quantity: 50

Designed for use in vehicles, puck lights, and many other fixtures requiring a bi-pin base, these mini bi-pin halogen bulbs are an excellent choice for illuminating your space quickly and easily. Choose from a variety of voltages, base types, bulb shapes, wattages, and Lumen outputs to help maximize your lighting design. Halogen bulbs are all dimmable to give you more control over the light levels in your application.
Identify the base of the mini bi-pin bulb you have in order to determine what kind of bulb you'll need to replace it with. The base type is sometimes printed on the bulb or the fixture you install it in. If not, you'll likely need to measure the base yourself. All you have to do is measure the space between the two pins in millimeters and match it to the base type the measurement corresponds to. For example, G8 bulbs have 8 millimeters between the two pins. Read this blog post at 1000Bulbs.com for more information about figuring out your bulb's base type.
Need assistance selecting the right mini indicator lamp for your application? Call us at 1-800-624-4488 to speak to one of our lighting experts.