Wattage and Color Selectable - 1 x 4 LED Panel - Watts 25-30-40 - Kelvin 3500-4000-5000
Lumens 2900-3390-4400 - 120-277 Volt - 4 Pack - PLT-90145
Color Temperature: 3500 Kelvin, 4000 Kelvin, 5000 Kelvin
Life Hours: 50,000
Wattage: 25 Watt, 30 Watt, 40 Watt
Lumens: 2,900, 3,390, 4,400
Length: 47.8 in.
Height: 1.6 in.
Width: 11.9 in.
Warranty: 5 Years



Sold only by the 4 Pack for $192.31
PLT-90145
3300 Lumens - 1 x 4 LED Panel - 30 Watt - 4000 Kelvin
2 Lamp Equal - 120-277 Volt - 4 Pack - PLT-90167
Life Hours: 50,000
Length: 47.8 in.
Height: 1.6 in.
Width: 11.9 in.
Warranty: 5 Years



Sold only by the 4 Pack for $219.49
PLT-90167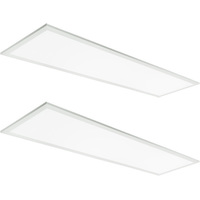 Wattage Selectable - 1 x 4 LED Panel - Watts 23-29-38 - 4000 Kelvin
Lumens 2600-3200-4200 - 120-277 Volt - 2 Pack - TCP FP1UZD3841K
Life Hours: 50,000
Wattage: 23 Watt, 29 Watt, 38 Watt
Lumens: 2,600, 3,200, 4,200
Length: 47.76 in.
Height: 1.75 in.
Width: 11.73 in.
Warranty: 5 Years
Case Quantity: 2



Sold only by the 2 Pack for $115.83
TCP-10632
Using a fraction of the energy of traditional fluorescents, these fixtures come on instantly to full brightness without needing a warmup period. Ceiling LED panel lights eliminate dark spots by using an acrylic lens to evenly distribute light, reducing the number of fixtures needed to properly light an area. Some fixtures come with an emergency backup that provides light during a power failure for up to 90 minutes. Dimmable LED panel lights allow you to adjust the light output as needed. To take advantage of additional energy savings, look for fixtures that have been DLC certified. These fixtures have been tested to meet strict energy standards and may qualify for state or local rebates.
1x4 ceiling LED panel lights have a lightweight design that allows for easy installation by one person into T-bar ceilings. Some lights have the option of being surface mounted to drywall ceilings with compatible LED panel mount kits. When selecting ceiling LED panel lights, be sure to look at the color temperature. Measured in Kelvin, color temperature describes the color of the light produced. Use 3500K LED panel lights in lobbies, retail stores, and other similar locations to create a welcoming feel. Choose fixtures with a 4000K light to help reduce eye strain in hospitals, classrooms, and offices. Fixtures producing a 5000K light are ideal for areas where increased visibility and concentration are needed.
Not sure which 1x4 ceiling LED panel lights you need for your application? Call 1-800-624-4488 today to speak with a lighting expert!