Ushio 1000251 - Stage and Studio - G7
DYS/DYV/BHC - 600 Watt - 120 Volts - GY9.5 Base - 3200K
ANSI Code: DYS / DYV / BHC
Bulb Shape: G7
Life Hours: 75
Wattage: 600 Watt
Lumens: 17,000
Voltage: 120
Base Type: GY9.5

Ushio 1000252 - DYS-5 - Stage and Studio
G7 - 600 Watt - 125 Volt - GY9.5 Base - 3200K
ANSI Code: DYS-5
Life Hours: 75
Wattage: 600 Watt
Lumens: 13,750
Voltage: 125
Base Type: GY9.5
Diameter: 0.88 in.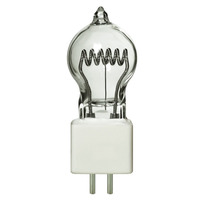 Ushio 1000246 - DYH - Stage and Studio
G7 - 600 Watt - 120 Volts - G5.3 Base - 3200K
ANSI Code: DYH
Life Hours: 75
Wattage: 600 Watt
Lumens: 17,000
Voltage: 120
Base Type: G5.3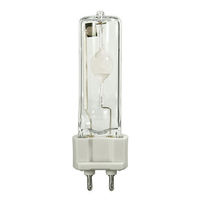 SYLVANIA 54311 - 4ARXS - 150W
Stage and Studio - 92.5 Volt - Metal Halide - 7000K
Order Code: HSD150W/704ARXS
ANSI Code: HSD
CRI: 85
Life Hours: 3,000
Wattage: 150 Watt
Lumens: 12,000
Voltage: 92.50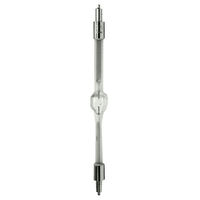 SYLVANIA 54314 - HMI DXS - 4000W
Stage and Studio - 200 Volt - SFa21 Base - Metal Halide - 6000K
Order Code: HMI 4000W/DXS
Family: HMI
Life Hours: 500
Wattage: 4,000 Watt
Lumens: 38,000
Voltage: 200
Diameter: 1.42 in.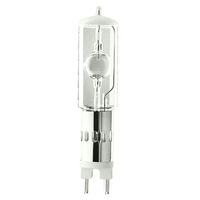 SYLVANIA 54099 - HMI SE/XS - 6000W
Stage and Studio - 123 Volt - GX38 Base - Metal Halide - 6000K
Order Code: HMI6000W/SE/XS
Family: HMI
CRI: 90
Life Hours: 500
Wattage: 6,000 Watt
Lumens: 600,000
Voltage: 123
Stage and Studio Lighting
There are as many light bulbs for stage and studio lighting as techniques and applications. With such a large set of application based needs, it's no wonder that stage lighting is listed with so many acronyms. But from the varied ANSI lights, to HPL and reflector bulbs, 1000Bulbs.com has the studio lights to meet your needs exactly. If you need a replacement for your source four fixture, we have the right HPL, or if you're looking to replace the flashbulbs or photoflood lamps in your photography studio, we have those too. If you feel overwhelmed by the huge selection of bulbs, don't hesitate to contact our expert staff for assistance.