1/2 in. Rope Light Accessories | 2 and 3-Wire
1/2 in. - Rope Light Power Connector or Extension Connector
3 Wire - FlexTec 2062CON
Connection: 3 Wire
Use With: 1/2 in. 3 Wire Chasing Rope Light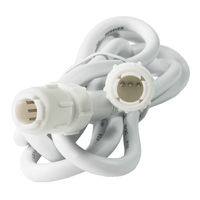 1/2 in. - Rope Light Universal Extension
Length 6 ft. - 3 Wire - Signature 13MM-3W-6-U-KIT
Connection: 3 Wire
Use With: 1/2 in. 3 Wire Rope Lights
Length Ft: 6 ft.
Diameter: 0.5 in.
1/2 in. - Incandescent - Chasing Rope Light Power Cord
Length 5 ft. - 3 Wire - Signature 13MM-3W-PC5
Connection: 3 Wire
Use With: 1/2 in. 3 Wire Chasing Rope Light
Length Ft: 5 ft.
Diameter: 0.5 in.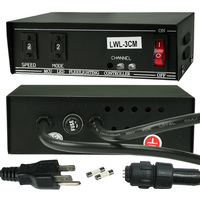 1/2 in. - LED - Rope Light 10 Function Controller
3 Wire - FlexTec LWL3C
Maximum Wattage: 480 Watt
Voltage: 120
Amperage: 4 Amps
Music Synchronization: No
Connection: 3 Wire
Loading Length: 164 ft.
Use With: 1/2 in. 3 Wire LED Chasing Rope Light
1/2 in. Rope Light Accessories
Half-inch rope light connectors and other two-wire or three-wire rope accessories can all be found here at 1000Bulbs.com. A rope-light connector allows you to easily customize the look in any room by connecting two strands of rope lights. Other useful accessories include end caps, which prevent your rope lights from becoming a hazard; clips to mount your rope lights; and a window suction-cup kit to attach your rope lights to glass. Browse through the various accessories to find what you're looking for. If you need help, our staff is ready to answer your questions and help you make an informed decision.