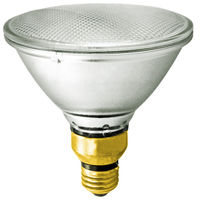 PAR38 - 72 Watt - 90 Watt Equal
Halogen Lamp - Narrow Flood - 1000 Life Hours - 1350 Lumens - 2900 Kelvin - 120 Volt - Green Energy 10464-GEL
Order Code: 72PAR38/NFL/120V 1X
Life Hours: 1,000
Lumens: 1,350
Length: 5.2 in.
Diameter: 4.75 in.
Case Quantity: 15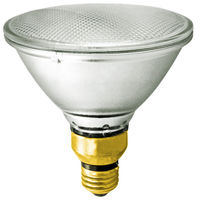 PAR38 - 90 Watt - 120 Watt Equivalent
Halogen Lamp - Flood - 1000 Life Hours - 1790 Lumens - 2900 Kelvin - 120 Volt - Gelco 10471
Order Code: 90PAR38/FL/120V 1X
Life Hours: 1,000
Lumens: 1,790
Length: 5.2 in.
Diameter: 4.76 in.
Case Quantity: 15

PAR38 - 90 Watt - 120 Watt Equivalent
Halogen Lamp - Narrow Flood - 1000 Life Hours - 1790 Lumens - 2900 Kelvin - 120 Volt - Gelco 10470
Order Code: 90PAR38/NFL/120V 1X
Life Hours: 1,000
Lumens: 1,790
Length: 5.2 in.
Diameter: 4.76 in.
Case Quantity: 15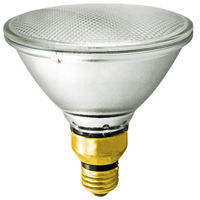 PAR38 - 72 Watt - 90 Watt Equal
Halogen Lamp - Flood - 1500 Life Hours - 1350 Lumens - 2900 Kelvin - 120 Volt - Green Energy 10465-GEL
Order Code: 72PAR38/FL/120V 1X
Life Hours: 1,500
Lumens: 1,350
Length: 5.2 in.
Diameter: 4.75 in.
Case Quantity: 15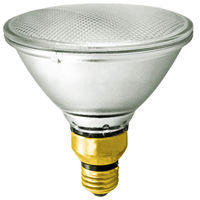 PAR38 - 70 Watt - 90 Watt Equal
Halogen Lamp - Flood - 1500 Life Hours - 1380 Lumens - 2900 Kelvin - 120 Volt - Satco S2257
Order Code: 70PAR38/HAL /XEN /FL /120V
Life Hours: 1,500
Lumens: 1,380
Length: 5.3 in.
Diameter: 4.76 in.
Case Quantity: 15

PAR38 - 80 Watt - 120 Watt Equivalent
Halogen Lamp - Narrow Flood - 1500 Life Hours - 1600 Lumens - 2900 Kelvin - 120 Volt - Satco S2259
Order Code: 80PAR38/HAL /XEN /FL /120V
Life Hours: 1,500
Lumens: 1,600
Length: 5.3 in.
Diameter: 4.76 in.
Case Quantity: 15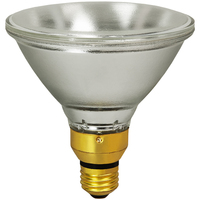 PAR38 - 80 Watt - 120 Watt Equivalent
Halogen Lamp - Narrow Spot - 1500 Life Hours - 1600 Lumens - 2900 Kelvin - 120 Volt - Satco S2258
Order Code: 80PAR38/HAL /XEN /NSP /120V
Life Hours: 1,500
Lumens: 1,600
Length: 5.3 in.
Diameter: 4.76 in.
Case Quantity: 15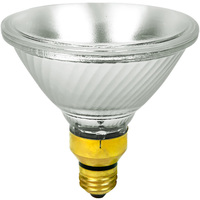 PAR38 - 70 Watt - 90 Watt Equal
Halogen Lamp - Narrow Spot - 1500 Life Hours - 1380 Lumens - 2900 Kelvin - 120 Volt - Satco S2256
Order Code: 70PAR38/HAL /XEN /NSP /120V
Life Hours: 1,500
Lumens: 1,380
Length: 5.3 in.
Diameter: 4.75 in.
Case Quantity: 15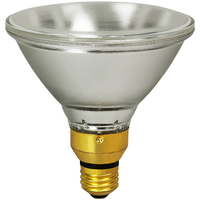 PAR38 - 72 Watt - 90 Watt Equal
Halogen Lamp - Spot - 1500 Life Hours - 1350 Lumens - 2900 Kelvin - 120 Volt - Green Energy 10463-GEL
Order Code: 72PAR38/SP/120V 1X
Life Hours: 1,500
Lumens: 1,350
Length: 5.2 in.
Diameter: 4.75 in.
Case Quantity: 15

PAR38 - 70 Watt - 90 Watt Equal
Halogen Lamp - Narrow Flood - 2000 Life Hours - 1310 Lumens - 2900 Kelvin - 120 Volt - Ushio 1003846
Life Hours: 2,000
Lumens: 1,310
Length: 5.31 in.
Diameter: 4.75 in.
Case Quantity: 15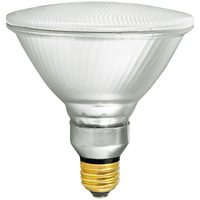 Shatter Resistant - PAR38 - 70 Watt - 90 Watt Equal
Halogen Lamp - Narrow Flood - 2500 Life Hours - 1305 Lumens - 2900 Kelvin - 120 Volt - SYLVANIA 14577
Order Code: 70PAR38/HAL/NFL25
Life Hours: 2,500
Lumens: 1,305
Length: 5.31 in.
Diameter: 4.75 in.
Case Quantity: 15
Halogen PAR Lamps
Halogen PAR Flood Lights are most commonly used as exterior lighting, track lighting, and accent lighting. They also offer the ultimate solution for sensational store merchandising. The parabolic aluminized reflector (PAR) allows these lights to have a superior focusing ability for a more concentrated appearance with virtually no stray light. Halogen PAR Flood lights are fully dimmable and are available in a variety of sizes, beam spreads, and wattages for greatest adaptability.
Need help selecting the right bulb for your recessed downlight?
Click here for helpful information, or contact one of our knowledgeable account managers at 1-800-624-4488 for assistance.
If you are not sure which light bulbs will suit your needs best, we encourage you to contact our friendly and knowledgeable account managers who will be happy to help.