1-800-624-4488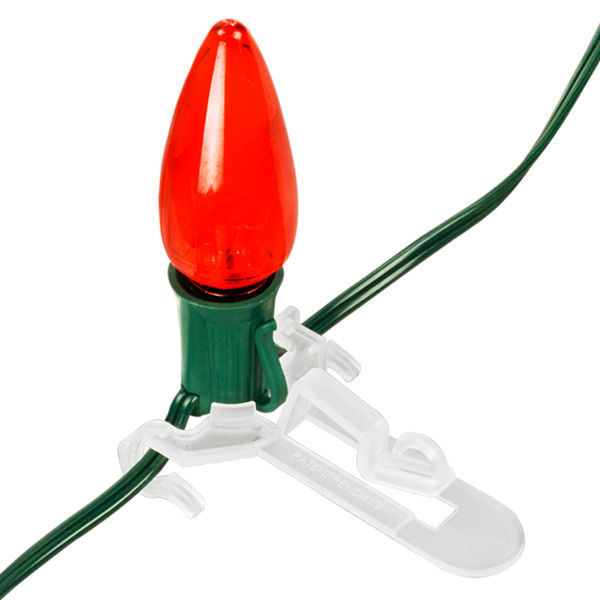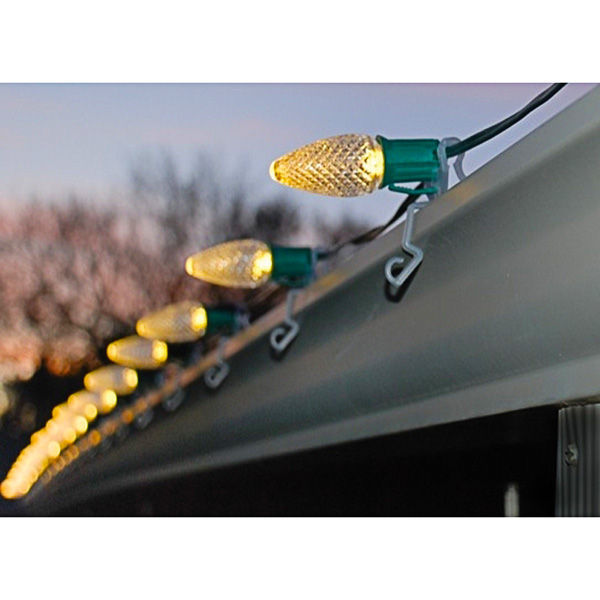 Multi Application Clips
Holds C7, C9, Mini Christmas Lights - 50 Pack
---
Multi Application Clips
Holds C7, C9, Mini Christmas Lights - 50 Pack
Description
The Multi Application clear light clip is the perfect accessory to hang your lighting sets this holiday season. Easily attachable to shingles, tile roofs, or gutters, the 50 clips will hold C7, C9, and Mini Christmas lights. The secondary hook is designed to hold any insulated electrical cord without causing damage. The All-in-One clips give you lighting flexibility without having to change your clips to accommodate your lights.
Specifications
| | |
| --- | --- |
| Brand: | Christmas Lite Co. |
| MPN (Part No.): | CCH0501050102 |
| Color: | Clear |
| Bulbs Included: | No |
| | |
| --- | --- |
| Mounting: | Shingles and Gutters |
| Use With: | C7, C9, Swag, Tube, Icicle, Mini Lights |
| Package Quantity: | 50 |
Helpful Hints
Begin by measuring the areas you want to decorate. Spacing on miniature light sets varies between two to three lights per foot. When using miniature light strings to create an icicle effect, the number of lights required per linear foot of roofline is determined by length of icicle "drop" you use. "Drops" averaging 18" in length and 6" apart, will require about 14 lights per linear foot of roofline. Remember to complete a "drop", the light string hangs down and must run back up. Estimate one clip per "drop".
Locate your electrical outlets before installing lights. It's easiest to light a home by starting near the middle and running lights in both directions.
Estimate the electrical requirements for your installation. The total current draw in amperes can be estimated by adding the current of all strings powered from a single outlet. The current rating of each light string should be marked on the product or on its packaging. The number of Christmas light strings you can connect will depend upon the capacity of the circuit in amperes, and what household loads are already connected to that circuit.
To run electrical power long distances, use heavy extension cords. Use electrical cords of sufficient length to avoid stringing cords together. Try to anticipate areas where water or snow might accumulate and locate connections away from such areas. Connections are best located in sheltered areas, such as beneath overhangs. Be sure to secure cords against excessive movement due to wind, etc. Do not use any fastener that has the potential to damage the cord insulation. The secondary hook on the Lites, All-in-One PLUS Clips and Icicle Clips can be used for this purpose.
Inspect and test your light strings prior to installation. Do not use light sets with cracked insulation or damaged cords. Replaced C7 and C9 lamps only with lamps of the same wattage as the original lamp, or in the case of miniature lights, lamps of the same voltage rating.
Multi Application Clips - Holds C7, C9, Mini Christmas Lights - 50 Pack
is rated out of
5
by
11
.
Rated

1

out of

5
by
BigHoundDog
from
A REAL PAIN TO USE WITH LED C9 BULBS
After an expensive shipping cost, I discover that these are a real pain to use with led c9 bulbs. I have watched all the videos, but they don't tell you that the led bulbs will not sit in the socket like the videos show. Very frustrating for Christmas this year.
Date published: 2015-12-15
Rated

5

out of

5
by
Fred1942
from
Super and easy to use. Can't beT that
Super and easy to use. You can't beat that.
Date published: 2015-01-19
Rated

5

out of

5
by
Firefighter663
from
Best clip I've ever used.
After many years of hanging lights this is hands down the best clip I have ever used. Easy to apply and does what it is designed to do.
Date published: 2015-01-05
Rated

5

out of

5
by
mYkLObE
from
Finally clips that work EVERYWHERE
So, I have OCD when it comes to things looking straight. It is SO NICE to have universal, consistent clips that can make all 400 of the bulbs on my roof, no matter the angle, look perfectly straight. I LOVE that these clips don't touch the bulbs!!!! ALL of my old bulbs had the paint wear off because the clips rub against the actual bulb. These use the wire and harness to secure the bulb, making them ideal for not destroying your bulbs! Great clip! Great price! 100% the best ones I've used in my 20 years of doing Christmas Lights!
Date published: 2012-12-03
Rated

5

out of

5
by
RisingSun
from
Best all around clip on the market!
We use these clips year after year and they do a fantastic job!
Date published: 2017-08-24
Rated

5

out of

5
by
Cliff Slick
from
Great clips
Clips came quickly. Would buy them again. Best clips for hanging lites.
Date published: 2016-12-05
Rated

5

out of

5
by
Someone
from
Versatile and easy to use
Installed Christmas lights when it was snowing and ten degrees outside. Only easy thing about the process was these clips. They are very versatile and easy to install and remove. The lights have a very professional and uniform appearance when mounted with these clips.
Date published: 2014-01-29
Rated

4

out of

5
by
Phil71
from
Held up
Used this for Christmas 2012. Held up with the bad weather we had. Takes some time for initial install, but worth the effort.
Date published: 2013-01-16