1-800-624-4488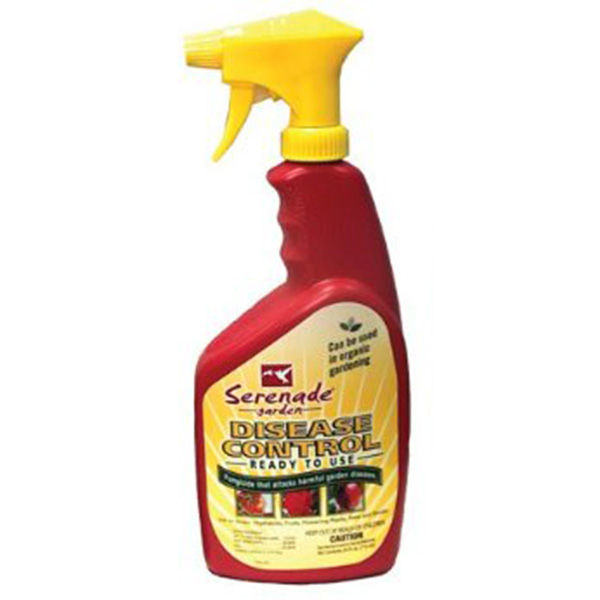 Serenade - 1 qt.
Garden Disease Control RTU - Mold and Mildew Control - Organic Fungicide Solution - 704341
---
Serenade - 1 qt.
Garden Disease Control RTU - Mold and Mildew Control - Organic Fungicide Solution - 704341
Description
Serenade Garden Disease Control RTU 1 quart organic fungicide attacks harmful garden disease on contact. Whether you're dealing with leaf blight, black mold, or even powdery mildew, Serenade Garden Disease Control RTU is the organic gardener's choice for safe, natural, broad spectrum disease control. With no weather or timing restrictions on use, you can use this fungicide the same day as your harvest. Great for use on roses, vegetables, fruits, flowering plants, trees, and shrubs. Enjoy peace of mind knowing that your crops are safe from disease with Serenade Garden Disease Control RTU.
Return Policy
Grow Lighting & Hydroponics Return Policy
Grow Lights, Hydroponic supplies, special orders, and non-stock items are sold as "ALL SALES FINAL, no returns accepted". All fixtures are considered Special Order and are non-returnable. Please allow an account manager to assist you in this kind of purchase in order to guarantee that you are receiving the correct product.
Some grow lights and accessories have their respective factory warranties stated on our website. 1000Bulbs.com will assist its customers with these factory warranties in the following manner:
If a product is declared defective and is under warranty; the customer is asked to contact customer service or their account manager and ask for a return merchandise authorization. (RMA) With the RMA, our customer may return the declared defective product at the customer's expense, for factory testing. When the factory tells 1000Bulbs.com that the product is defective and not a product that has been improperly installed, we can credit our customer for the product and we will also credit the original shipping costs of that original purchase. If a replacement is needed, it must be ordered and paid for as if it were a new order. (A credit for the defective may take from 2-4 weeks to be declared acceptable under warranty.) Any and all remedies concerning Hydroponics Supply purchases will follow guidelines as set forth here. Other products are not returnable under circumstances outside those described above.
All of the products sold by 1000Bulbs.com are first quality products. All are factory tested and ready for customer application.
WARNING: Non- Plug in Ballast wiring and installation procedures are very complicated and should be attempted by a licensed electrician only. Ballast installation poses serious risks of electric shock which can lead to injury or death.
Shipping or Website Errors
Should the customer receive product not expressly ordered either by our shipping error or incorrect website information, the product will be picked up by our shipper and replacements shipped at no additional charge.
Diseases Controlled
Diseases Controlled
Anthracnose (Colletotrichum spp.)
Bacteria (Erwinia, Pseudomonas, Xanthomonas spp.)
Bacterial Leaf Blight (Xanthomonas campestris)
Bacterial Speck (Pseudomonas syringae pv. Tomato)
Bacterial Spot (Xanthomonas spp.)
Black Mold (Alternaria alternata)
Black Root Rot/Black Crown Rot (Alternaria spp.)
Black Spot of Rose (Diplocarpon rosea)
Botrytis (Botrytis spp.)
Downy Mildew (Bremia lactucae, Personospora spp.) and (Plasmopara viticola - suppression)
Early Blight (Alternaria solani)
Fire Blight (Erwinia amylovora) - suppression
Gray Mold (Botrytis cinerea)
Late Blight (Phtytophthora infestans)
Leaf Spots and Rusts – (Alternaria, Cercospora, Entomosporium, Helminthsporium, Myrothecium, Septoria, Puccinia, and Phragmidium spp.)
Pin Rot (Alternaria/Xanthomonas complex) -suppression
Powdery Mildew (Uncinula necator, Erysiphe spp., Sphaerotheca spp., Oidiopsis taurica, Leveillula taurica, Podosphaera leucotricha)
Scab (Venturia spp.) – suppression
Target Spot (Corynespora cassiicola)
Walnut Blight (Xanthomonas campestris)
Specifications
| | |
| --- | --- |
| Brand: | Serenade Garden |
| MPN (Part No.): | 704341 |
| UPC: | 893752000042 |
Volume:
946 ml

OMRI Listed

:
Yes
Case Quantity:
6