Total String Length (Feet)
Hide
25 ft. - Transparent Multi-Color - C7 Christmas String Lights - 25 Bulbs
Green Wire - 12 in. Bulb Spacing - 2 Set Max. Connection - Commercial Grade
Wire Gauge: 20 AWG
Connection: Male to Female
Lighted Length: 24 ft.
Lead Length: 6 in.
Tail Length: 6 in.
Bulb Spacing: 12 in.
Max. Connections: 2 Sets
Case Quantity: 10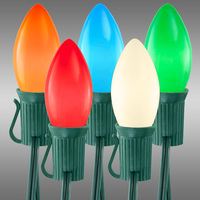 25 ft. - Opaque Multi-Color - C9 Christmas String Lights - 25 Bulbs
Green Wire - 12 in. Bulb Spacing - 2 Max. Connections - Commercial Grade
Wire Gauge: 20 AWG
Connection: Male to Female
Lighted Length: 24 ft.
Lead Length: 6 in.
Tail Length: 6 in.
Bulb Spacing: 12 in.
Max. Connections: 2 Sets
Case Quantity: 10

History of Christmas Lights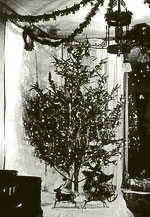 First Christmas tree with
electric lights, 1882
Christmas lights have been one of the most popular Christmas decorations for the past century. In 1882, three years after Edison invented the first sensible light bulb, Edward H. Johnson created the first Christmas lights in his home in New York City. The tree was hand-wired and lit with 80 red, white, and blue globes. The lights blinked and twinkled while the tree slowly revolved.
Christmas lights were first made available for sale in 1890, but were so expensive that most people could not afford them. They were a symbol of status among the wealthy and many people rented lights instead of buying them. In 1903, one set of 24 Christmas lights sold for $12.00. Considering the average person made about $9 a week, this was far too extravagant for the normal family. In addition to the cost of the lights, the service of a wireman was required and, if the house was not electrically powered, they also needed a generator.
Outdoor Christmas lights did not become practical for the average family until the 1930s. By this time, not only were homes decorated with electric lights, stores, community Christmas trees, and government buildings were also adorned with the twinkling lights. General Electric began to sponsor community Christmas lighting competitions in the 1920s, but it wasn't until the 1950s that it was common to see rows of houses lit on the outside. Today, the places you find the lights are as numerous as the types of lights available.
Varieties of Christmas Lights
Mini string lights are the most popular because of their versatility. Available in either incandescent or LED technologies and in a wide range of color options, these Christmas lights are the perfect addition to almost any Christmas lighting design. All of our mini string lights are very reliable and stay lit if a single bulb fails. Our incandescent mini string lights come with replacement lamps, and we carry LED testers and "PODS" for repairing the LED light strings.
Outdoor Christmas lights are most often C7 or C9 string lights. Either size is an excellent choice for those that want a more classic feel for your Christmas lighting. The difference between these types of outdoor Christmas light is primarily the size of the bulb. The number after the "C" represents the diameter of the bulb in eighths of an inch, for example a C7 bulb is 7/8" or .875" in diameter. So the larger the number, the bigger the bulb. These string lights are available in several colors and in either LED or incandescent options. If you're looking to customize the colors in your Christmas lighting design, we also offer C7/C9 light strands and bulbs sold separately.
Decorate mantles, wreaths, or even centerpieces in light without needing to worry about having a nearby outlet or running an extension cord with battery operated Christmas lights. From lit ribbons and InvisiLite strings to LED spheres and mini light strings, you're sure to find the right battery operated Christmas lights for this holiday season.
You can't go wrong with net lights or tree wrap lights for trees, columns, and bushes. Tree wrap lights are long and narrow; designed for tree trunks and columns. Net lights are shorter and wider which is better suited for bushes and shrubbery.
Don't forget about the holiday greenery. Our selection of trees, wreaths, and garlands are available in unlit and pre-lit options. For the living room or lobby, we carry a wide variety of Christmas trees from realistic pine, fir, and spruce trees to tinsel trees available in several color options. Wreaths are a classic holiday addition for residential and commercial buildings. We offer a variety of sizes, styles, and colors for you to choose from. For mantles and banisters, browse our Christmas garlands offered in a range of lengths, bulb quantities, and colors to customize your holiday celebration.
Check out our Christmas lights by application page if you need further insight on how to best use your light strings! Or do you need technical help with your holiday decorations this year? Our lighting experts are available at 1-800-624-4488 to help you make your Christmas really shine!