Clear Straight Tip Medium Base Chandelier Light Bulbs

25 Watt - B11 Chandelier Bulb
Clear - Straight Tip - Medium Base - 130 Volt - Satco A3631
Life Hours: 2,500
Length: 3.88 in.
Diameter: 1.38 in.
Case Quantity: 25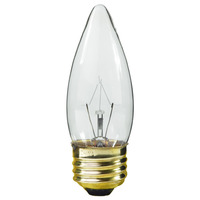 25 Watt - B11 Chandelier Bulb
Clear - Straight Tip - Medium Base - 130 Volt - PLT 81417
Life Hours: 5,000
Height: 3.88 in.
Diameter: 1.25 in.
Case Quantity: 25
Clear Straight Tip Medium Base Chandelier Light Bulbs
Illuminating your rooms with clear, straight-tip medium-base chandelier bulbs adds an elegant light to the decor. With up to 9,000 expected life hours, these medium chandelier bulbs range from 3.75 to 4.48 inches. In comparison to the size of a candelabra bulb, these medium lights have wider bases that fit into larger sockets. Some uses for broader-based bulbs include chandeliers and lanterns. If you have questions about which chandelier bulb to choose, consult the experts at 1000Bulbs.com. With the largest selection of products for all your lighting needs at prices you won't see anywhere else, browse the best internet-based lighting retailer.