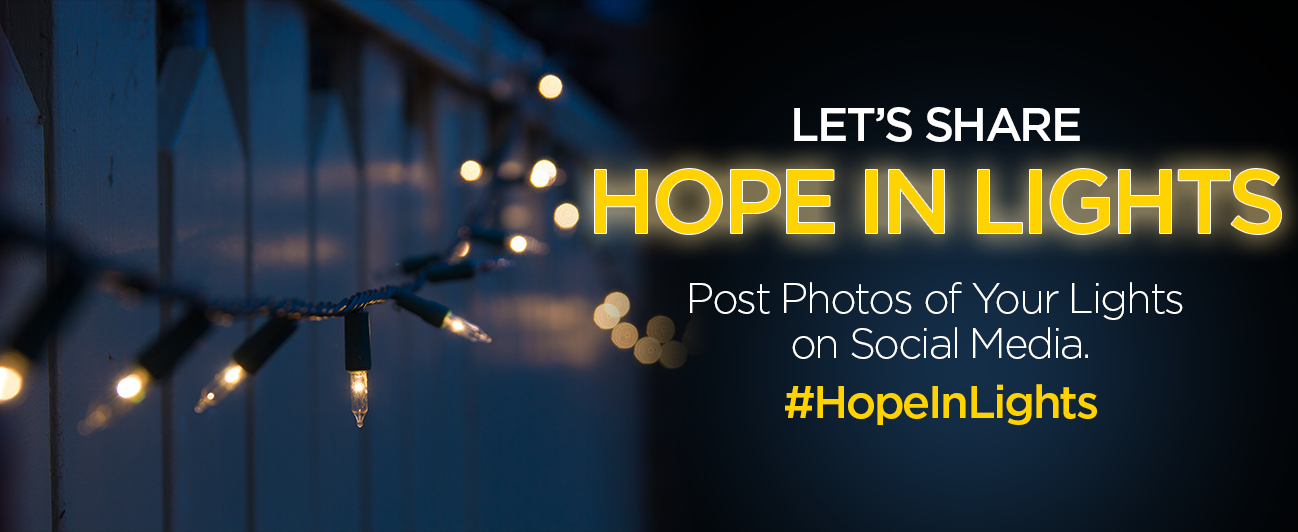 #HopeInLights
How People are Sharing Hope During Discouraging Times
Hope is a word which can mean or symbolize most anything. It can be an expression giving the idea that someone wishes for the best. That same word can also express rock-solid faith in a better future.
In the 1970s, towards the end of the Vietnam War, a trend started to show appreciation for our troops who were returning from a defeat in a brutal and unpopular war. By tying a yellow ribbon around a tree, citizens showed their appreciation and hope for better days ahead. A group called Tony Orlando and Dawn recorded an immensely popular song in 1973 call, Tie A Yellow Ribbon Around The Ole Oak Tree.
A New Sign For Hope
With the threat of the Coronavirus or COVID-19 extreme measures have been placed on the public causing people to feel alienated. Some of those concerns have been the issue of "Social Distancing", especially if you are sick, not feeling well or among the elderly. This term has had some misunderstandings, since in reality it is physical distancing that is being practiced.
Today, a new sign for hope seems to be springing up. The first report was on March 17, 2020, by HouseBeautiful.com. In this article it described people on Twitter encouraged others to put their Christmas lights back up as a sign of hope. Since people were going to be at home, rather than feel withdrawn over being isolated, they were encouraged to get out and put their lights back up to show solidarity.
Why Christmas Lights?
Many reasons may be given for the turning to this tradition which was started by Edward H. Johnson in 1882. Edward Johnson had visited Thomas Edison's lab and saw the potential. This led to him to hire Edison to make it happen.
One of the reasons for Christmas lights is because they consume time while putting them up. Why sit at home listening to one news report after another, which mimics the first report? Would time be better spent helping others in some fashion? Another reason given was so that families could spend more time together going out and looking at the lights. After all, the movies, malls, and restaurants are all closed. A third reason, may hold one of the higher significance; the idea of light in the midst of darkness. There could be another underlying reason for this found in its religious standings. The Christmas story is still one of the most honored stories of hope and life in the midst of horrid times. According to the BBC this has gone international.
Regardless of why people are choosing to put up Christmas lights, this symbol is being used to bring hope during uncertain times.
What Has Been The Unexpected Effects?
Given this news, people are starting to buy replacement bulbs for their outside lights to help spread this hope. 1000Bulbs.com has seen Christmas light orders starting to pour in from distributors wanting to buy Christmas lights. Why? Because people are purchasing them and the distributors need the supplies.
Check Out These Lights From Some Of Our Customers

Article From KHQ in Spokane, Washington
Many people are finding ways to spread joy from a distance during the coronavirus outbreak. A Liberty Lake family is doing that with their holiday decorations. Bonnie Cannon has four Christmas trees in her front yard. They're still covered in strands of lights. She saw a story on KHQ about using holiday lights to cheer people up, and decided to plug hers back in. "I thought if I can help brighten people's days or nights, actually, we'll just go from there and see how that works, and other people might do other things to help out," Cannon said. Cannon posted about her Christmas trees on Nextdoor, and some people wrote back saying they were also planning to bring the holidays back early. She hopes to keep brightening lives during this scary season and reminding people there is still good to be found in the world.
KHQ Spokane, Washington
Mar 25, 2020
Where Can I Find Christmas Light Bulbs?
At 1000Bulbs.com, we want to aid you in any of your lighting needs, including Christmas light bulbs. Our professional and courteous sales staff is extremely knowledgeable, meaning they can help you find what you want. 1000Bulbs.com has a variety of products which will give you choices. These choices will not only give more light to your home or business; but the right kind of illumination. Be it soft, dedicated, or Christmas, the lighting you need can be found by our professionals. We care and want to help shine that hope for others.