CFL Flood Lights | Reflector Flood Lights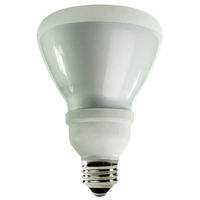 BR30 CFL Bulb - 65W Equal - 15 Watt
2700K Soft White - 80 CRI - 50 Lumens per Watt - Energy Miser FE-R30-15W-27K
Energy Star: No
CRI: 80
Bulb Color: Soft White
Color Temperature: 2700 Kelvin
Life Hours: 8,000
Wattage: 15 Watt
Incandescent Equal: 65 Watt
Lumens: 750
Length: 5.47 in.
Diameter: 3.7 in.
Case Quantity: 48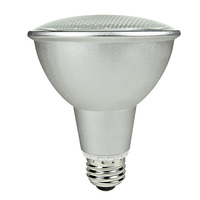 PAR30 CFL Bulb - 60W Equal - 15 Watt
3000K Halogen White - 80 CRI - 43 Lumens per Watt - Energy Miser FE-PAR30-15W/30K
CRI: 80
Bulb Color: Warm White
Color Temperature: 3000 Kelvin
Life Hours: 8,000
Wattage: 15 Watt
Lumens: 650
Halogen Equivalent: 60 Watt
Length: 4.65 in.
Diameter: 3.82 in.
Case Quantity: 24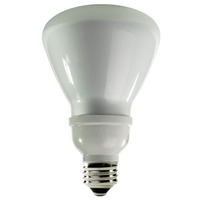 BR30 CFL Bulb - 65W Equal - 15 Watt
5000K Full Spectrum - 80 CRI - 50 Lumens per Watt - Energy Miser FE-R30-15W-50K
CRI: 80
Bulb Color: Full Spectrum
Color Temperature: 5000 Kelvin
Life Hours: 8,000
Wattage: 15 Watt
Incandescent Equal: 65 Watt
Lumens: 750
Length: 5.47 in.
Diameter: 3.7 in.
Case Quantity: 48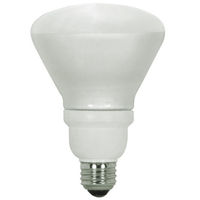 BR30 CFL Bulb - 65W Equal - 15 Watt
2700K Soft White - 82 CRI - 46 Lumens per Watt - Satco S7247
CRI: 82
Bulb Color: Soft White
Color Temperature: 2700 Kelvin
Life Hours: 10,000
Wattage: 15 Watt
Incandescent Equal: 65 Watt
Lumens: 700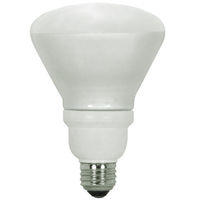 BR30 CFL Bulb - 65W Equal - 15 Watt
5000K Full Spectrum - 82 CRI - 43 Lumens per Watt - Satco S7249
CRI: 82
Bulb Color: Full Spectrum
Color Temperature: 5000 Kelvin
Life Hours: 10,000
Wattage: 15 Watt
Incandescent Equal: 65 Watt
Lumens: 650
Warranty: 15 Months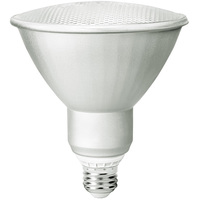 PAR38 CFL Bulb - 90W Equal - 23 Watt
3000K Halogen White - 80 CRI - 52 Lumens per Watt - Energy Miser FE-PAR38-23W/30K
CRI: 80
Bulb Color: Warm White
Color Temperature: 3000 Kelvin
Life Hours: 8,000
Wattage: 23 Watt
Lumens: 1,200
Halogen Equivalent: 90 Watt
Length: 5.51 in.
Diameter: 4.8 in.
Case Quantity: 24

BR30 CFL Bulb - 65W Equal - 15 Watt
2700K Soft White - 82 CRI - 50 Lumens per Watt - GE 80893
Dimmable: No
CRI: 82
Bulb Color: Soft White
Color Temperature: 2700 Kelvin
Life Hours: 10,000
Wattage: 15 Watt
Incandescent Equal: 65 Watt
Lumens: 750
Length: 5.5 in.
Diameter: 3.7 in.
Case Quantity: 10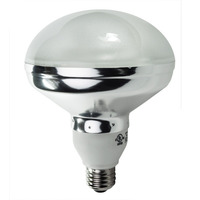 BR40 CFL Bulb - 120W Equal - 30 Watt
5000K Full Spectrum - 80 CRI - 55 Lumens per Watt - Energy Miser FE-RSF-30W-50K
CRI: 80
Bulb Color: Full Spectrum
Color Temperature: 5000 Kelvin
Life Hours: 8,000
Wattage: 30 Watt
Incandescent Equal: 120 Watt
Lumens: 1,650
Length: 6.11 in.
Diameter: 4.92 in.
Case Quantity: 20
CFL Flood Lights
Producing more light per watt, CFL flood lights are excellent alternatives to energy-consuming halogen bulbs. Flood lights emit bright, highly concentrated light, making them ideal for use in outdoor landscape or indoor ceiling fixtures for directional or display lighting. R-type and PAR-type bulbs are popular flood light bulbs. They are often used in the same kinds of fixtures, including
track lights
and
recessed downlights
, among other flood light fixtures. The "R" in each of the bulbs' titles stands for "reflector" and the number stands for the bulbs' diameters in eighths of an inch. For example, R20s measure 20/8 inches (2.5 inches) and PAR30s measure 30/8 inches (3.75 inches).
R-type vs. PAR-type
R-type
bulbs produce soft-edged light, meaning that the light wraps around objects and casts diffuse shadows with soft edges. R-type bulbs are most often used in indoor-only fixtures and aren't as likely to be outdoor-approved as PAR-type bulbs.
PAR-type
bulbs, or Parabolic Aluminized Reflectors, cast more concentrated and precise light than R-type bulbs. They are usually approved for use in either indoor or outdoor fixtures.
Important Factors to Consider:
Wattage: Low wattage = more energy savings; however, more watts = brighter light.
Measurements: Will the bulb fit in your fixture?
Beam Angle: Do you need a spotlight, or a wide-angle flood light?
Lumens: More lumens = brighter light.
Kelvin Temperature: Ranges from 2700K yellow light to 5000K white light.
Wet Location or Outdoor Location Approved : If you are replacing an outdoor light.
Types of CFL Flood Light Bulbs