Outdoor Security Lights - Motion Activated Lights
9 Watt - LED Security Light with Motion Sensor
4000 Kelvin - 120 Volt - Bronze Finish - StonePoint JJ700MB
Life Hours: 50,000
Sensor Type: Motion
Height: 6.25 in.
Width: 4.5 in.
Depth: 5.75 in.
Warranty: 5 Years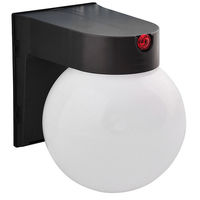 12 Watt - LED - Globe Fixture with Photocell Sensor
4000 Kelvin - 120 Volt - Bronze Finish - Amax Lighting LED-SLR12BZ
UPC: 6940227060125
Life Hours: 50,000
Sensor Type: Photocell
Height: 7.25 in.
Width: 6 in.
Depth: 7.63 in.
Warranty: 3 Years
Security Lights
When you're looking to keep your home safer and you are in the market for new security lighting, 1000Bulbs.com is the place to shop! Choose from security light options such as quartz bullet flood lights and lights with motion and photocell sensors. There are also 110-degree and 360-degree motion sensing halogen security floodlights to choose from. These light fixtures come with one to two bulbs and warranties lasting up to 10 years. With a variety of outdoor lighting options to choose from, 1000Bulbs.com is your go-to online lighting retailer. If you have questions or need help finding something, simply ask our friendly staff for assistance. We're here to help!