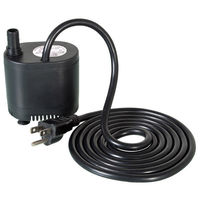 Grow Flow Submersible Pump - 251 Gal/Hr.
Accepts 1/2 in. Tubing - 10 ft. Power Cord - 120 Volt - Active Aqua GFOPUMP
UPC: 638104006514
Safety Rating: UL Indoor/Outdoor
Voltage: 120
Cord Length: 10 ft.
Gallons per Hour: 251
Weight: 1 lb.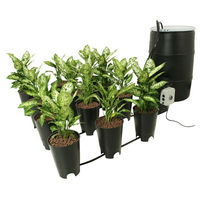 Grow Flow Controller and Bucket Kit - 7 Gallon
Includes Bucket Modules, High-flow Pumps, 55 Gallon Distribution Reservoir, and Controller Module - Active Aqua GFO7KT
Safety Rating: N/A
Length: 23 in.
Height: 23 in.
Width: 37 in.
Weight: 50 lbs.
Hydroponic Systems
By choosing 1000Bulbs.com, you're giving yourself the chance to explore a variety of hydroponics kits and locate the right one for you needs. Peruse an assortment full of AeroGarden 7, Aquafarm Aquaponic Systems, deep water culture systems, under current DWC systems, drip systems, Ebb n Flow systems and wick systems. These hydroponic kits are great for growing plants of all kinds, from tomatoes and green leaf plants to spices and herbs. Once you decide which kit you want, don't forget the accessories! Basket liners, round plant containers, site plugs and spigots are available. It has never been easier to find the hydroponics systems you need to help grow the plants in your garden. For the lowest prices on the largest inventory, 1000Bulbs.com can't be beat!