1-800-624-4488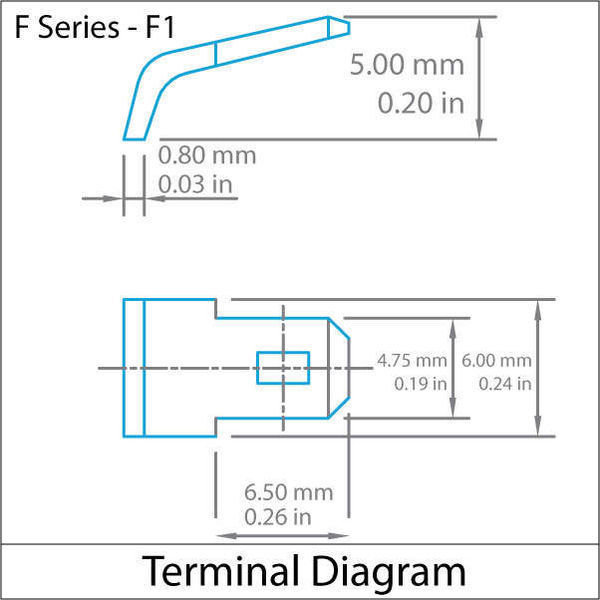 12 Volt - 5 Ah - UB1250 - AGM Battery
F1 Terminal - Sealed AGM - UPG D5741
---
12 Volt - 5 Ah - UB1250 - AGM Battery
F1 Terminal - Sealed AGM - UPG D5741
Description
Our 12V 5ah premium quality absorbed glass mat technology (AGM) battery is ideal for ATVs, motorcycles, personal watercraft, and snowmobiles. The Adventure Power AGM Battery was designed for more than performance; it was designed for the enthusiast with more cranking power than our competitors' same sized battery. Adventure Power batteries are completely spillproof and leakproof. Frequent replacement and high maintenance are over! A one year warranty is also included for your peace of mind. The key to this technology is the porous microfiber separators, which completely absorb and trap electrolyte. Molded top and side connection terminals provide versatility, increased strength and durability. The Adventure Power AGM Battery provides the most power and best value in the industry. Primary Applications: ATV, Emergency Lighting, Hunting, Medical Equipment, Security, UPS/Surge Protector
Specifications
Brand:
Universal Power Group
MPN (Part No.):
D5741

Order Code

:
UB1250
Safety Rating:
UL
Color:
Black

Voltage

:
12
Capacity:
5 Ah
Chemistry:
Sealed Lead Acid

Start Temp. (Min)

:
5 Deg. F

Start Temp. (Max)

:
104 Deg. F
Shelf Life:
6 Months
Terminal:
F1
Type:
AGM
Length:
3.54 in.
Height:
4.21 in.
Width:
2.76 in.
Weight:
3.09 lb.

Warranty

:
1 Year
Case Quantity:
10
Compatibility
ACCESS BATTERY: SLA1240, SLA1250
ACME SECURITY: SYSTEMS 602, SYSTEMS AL6/12, SYSTEMS ALTV248, SYSTEMS BPS, SYSTEMS EP1245, SYSTEMS RB12V4, SYSTEMS TC1245
ADEMCO / ADI: 4110DL, 4110XM, ADI 4110, BP412, PWPS1242
ALARM LOCK: RBAT4
ALEXANDER: G1240, G1270, NP412
ALPHA TECHNOLOGY: ALI 450
ARJO: 8418115, LIFTCHAIR
ARMSTRONG MEDICAL: S SCORT SUCTION
B&B: BP4.5-12, BP4-12, BP5-12
BATTERIES PLUS: CLTXPA124F, CLTXPA125F, XP125
BATTERY-BIZ: B617
BELKIN: BERBC42, BERBC53, PRO F5C500, PRO F6C325
BEST TECHNOLOGIES: FORTRESS L1460VAB
BIOMEDICAL SYSTEMS: (BSI CORP) 705 INFANT MONITOR
BROOKS EQUIPMENT: BAT124
CLOCKMATE BATTERIES: PSLA1204
COROMETRICS MEDICAL SYSTEM: 500 APNEA/EEG MONITOR, 501 APNEA/EEG MONITOR, 502 APNEA/EEG MONITOR, 903 EEG/APNEA MONITOR, APNEA MONITOR, APNEA/EEG MONITOR 500, APNEA/EEG MONITOR 501, APNEA/EEG MONITOR 502, EEG AND APNEA MONITOR 90, PS1242
CSB/Prism: EVX-1245, G1250, GH1240, GH1250, GP1240, GP1245
CYBER POWER: CPS375SL
DELTEC: 525, 750, 1050, 525E, PRM1500A
DIGITAL SECURITY CONTROLS: PC2500
DOUGLAS GUARDIAN: DG12-4.5F
DURACELL: DV124S
DYNA CELL: WP412
EAGLE PITCHER: CF12V4, CF-12V4.5, CF12V45, CF12V46, CF12V5, CFM12V46, CFM12V46M
EDWARDS: 1212B060
EFI: ELECTRONICS CORPORATION LANDGUARD 400
ELK BATTERIES: ELK1240
ELS: EDS1242
EMERSON: ACCUPOWER 20
EMERSON: 10, 20, 30, ACCUPOWER 10
EXIDE: PowerWare 1000K, PRESTIGE 2000, PWRBC69, PRESTIGE 800, PWRBC68
FENTON TECHNOLOGIES: PowerPal L280, PowerPal L660
FIRE LITE: MP12
GS PORTALC: PE12V4.5F1, PX12050SHR, PXL12050
HITACHI: HP4.12
IBM BATTERIES: 4694, 22P7359, BP512
INNOVONICS: BAT602, C2020
INTELLIPOWER: 750
INTERSTATE BATTERIES: BSL1050, BSL1055, PC1240
JABRO: 3225AL
JOHNSON CONTROLS: GC1240, JC1240, JC1240
JOLT BATTERIES: SA1250
JOLT BATTERIES: SA1245
KONG LONG: WP4-12
LEADMAN: LU550
LECTRONIC KADDY: 2000
LEOCH: DJW12-4.5, DJW12-5.4
LINTRONICS: MX12040
LINTRONICS: NP412
LIONVILLE SYSTEMS INC.: 600 DRUG CART, 624D DRUG CART, 818D MEDICINE CART, MEDICINE CART 818D
LOCKNETICS SBP1255 SLA4-12 1 12V 5 Ah SLA: SBP1255
MAGNETIC RESOUNANTS: 500 PULSE OXIMETER
MICROUPS: 20
MINUTEMAN: ALLIANCE 500, B00015, E1100, E11001, E500, E5001, MBK300, MBK3001
MK BATTERY: ES4-12, ES5-12
MOOSE: B1240
NAPCO ALARMS: MA1000E4LB, MA1000E4LB PAK, MA1008E, MA1008LKDL, MA1016E, MA1016LKDL, RBAT4
NASACO: 1240
NATIONAL BATTERY: C04A
NATIONAL POWER CORPORATION: GT024P6
NEWARK: 84F1014, 89F4526, JC1240, NP412, NPH512
NEWARK: 44F7570
NEWMAX: FNC1240, FNC1240A
NIEMANS: PW1240, RECHARGEABLE, EP1245, ES412, MX1240, NP412, PS1242
NIKKO: NB412
NORTH AMERICAN DRAGER: 782148
NORTH SUPPLY: 782375, 782397, S782069, S782397
NOTIFIER: 4885, PE412
NOVAMETRIX: 903 ECG & APNEA MONITOR, 903 O2/C02 MON, APNEA MONITOR 903, CO2 MONITOR, CO2 MONITOR 1200, CO2 MONITOR 1260, CO2 MONITOR 7000, COT MONITOR 7000, ECG & APNEA MONITOR 809, ECG & APNEA MONITOR 809A, ECG & APNEA MONITOR 810, ECG & APNEA MONITOR 810A, ECG & APNEA MONITOR 903, ECG MONITOR 903, NP412, 1200 CO2 MONITOR, 1260 CO2 MONITOR, 7000 CO2 MONITOR, 7000 COT MONITOR, 809 ECG & APNEA MONITOR, 809A ECG & APNEA MONITOR, 810 ECG & APNEA MONITOR, 810A ECG & APNEA MONITOR, NSCUTANEOUS O2CO2 MONIT, TC MONITOR
ONEAC: 1BP204, ONEBP204
Panasonic: LC-R125P, LC-RB124P
PARA SYSTEMS: MINUTEMAN MBK300, Minuteman Pro 200
PARKS MEDICAL: 1050 DOPPLER (UPGRADE), 1052 DOPPLER (UPGRADE), 1059 DOPPLER (UPGRADE), 1059 VASCULAR MINI LAB, 1102 DOPPLER, 3 MINI LAB, DOPPLER 1050 (UPGRADE), DOPPLER 1051 (UPGRADE), DOPPLER 1052 (UPGRADE), DOPPLER 1059 (UPGRADE), DOPPLER 1102, MINI LAB 3
POWER BATTERY: PM124
POWER PATROL: SLA1050, SLA1055
POWER STAR BATTERIES: GB1245
POWERSONIC: PS-1242, PS-1250
POWERTRON: H1X3DST, PE412RF1
PROTECTION ONE: PS640
QUANTUM: ES412
R & D BATTERIES: 5356, 5388, 5417
SEARS: 358798290, 530402806
SECURITRON: PB, PB2, PB2E, PB3, PB4, PSM, PSM12, PSM24, SP1, TM2, TSB3, XDT12, XDT24, XP1, XP1F, 32, 62, 12VOLT 4AMP, 24VOLT 4AMP, 32F, 32S, 62F, 62G, 62GF, 62SF, B124, B244, BPS, BPS POWER SUPPLY, BPS121, BPS1215, BPS123, BPS124.5, BPS126, BPS129, BPS241, BPS2410, BPS242, BPS243, BPS244, BPS246, CCS8, DK15 SLA4-12 1 12V 5 Ah SLA, DK25, DPA12, DPA24, DT7, EXD1, EXD1F, LCP SERIES, MAGNALOCKS, MINIMAG LOCKS
SILENT KNIGHT: 680, 712, 5107, ENERJET, LCR12V4PF, N5HR, N7HR, S121, S122
SL Waber PowerHouse: 250, 500, 280T, 320T
SONNENSCHIEN: A512/6.5S, A512/6.5SR
SSCOR: 90012 JR PAC/VAC SUCTION, 90022 JR PAC/VAC SUCTION, 90024 JR PAC/VAC SUCTION, PAC/VAC
STORAGE BATTERY SYSTEMS: S1242, S1250
TANDY/RADIO SHACK: 23289
TECHNACELL: EP1240, EP1245, TC1245
TEKONSHA: 1023, 1026, 1028, 2023, 2026, 2027, 2028, 2029, NP412, PS1242, PS1252, SURE SET III
TELESYS: DB124, DB1245
TEMPEST: ES412, TR412
TOSHIBA: 1200 MODEL 2, 1200 SERIES 2 KVA, 1200 SERIES 3KVA, 3KVA208VOLT, 3KVA240VOLT, ECB1UD1030U, PR00009P31
TRIO LIGHTING: TL930031
TRIPP LITE: 450VA
TSI POWER: TSI POWER UPS4500 SLA4-12 1 12V 5 Ah SLA
TSI POWER: UPS3600
ULTRA TECH: IM1240, UT1270
UNION BATTERY: MX12040, PW1204
UNIPOWER: WP5612
UNIPOWER: WP5612
UNISON: UNISON DP400 SLA4-12 1 12V 5 Ah SLA, Unison DP600 SLA4-12 4 12V 4.5Ah SLA, UNISON PS4.5 SLA4-12 1 12V 5 Ah SLA, DP400, DP600, PS4.5
UNIVERSAL BATTERY: UB1245, UB1250
UPG: UB1245, UB1250
UPSONIC: PC Mate 25, PCM25, PCMATE 25
UPSONIC: SYSTEM 200
VOLCANO: KB1240
YUASA: NP4-12, NP5-12, NPH5-12, NPX-25
ZEUS: PC5.12XF1, PC5-12F1
12 Volt - 5 Ah - F1 Terminal - UB1250 - AGM Battery - UPG D5741
is rated out of
5
by
13
.
Rated

5

out of

5
by
edsel
from
good price
cheapest one I found online and just what I needed...it's for my house security system.
Date published: 2013-04-09
Rated

5

out of

5
by
Larry70
from
As advertised
Had no problems. Looks exactly as described.
Date published: 2012-02-20
Rated

5

out of

5
by
Alexandra
from
Was exactly the battery I needed
I wasn't about to call a repair man to replace the home security system's battery and money has been a bit tight lately so I went looking on line. I found the exact battery i needed at a great price. It showed up quickly at my door. I was really confident that I made the right decisions when I put that battery in and it worked like a charm. Probably won't need another for the next 5 years. I would highly recommend 1000Bulbs as I will most certainly use them again.
Date published: 2012-02-15
Rated

5

out of

5
by
dedwar4
from
it works
perfect fit and function, no problems
Date published: 2011-10-06
Rated

5

out of

5
by
old man 68
from
great
I bought this to replace original in security system. When it came exact match to existing. Installed in about 10 min and walked away. Came fully charged and ready. No complaints.
Date published: 2017-03-17
Rated

5

out of

5
by
00p0000
from
Excellent.
The pricing, speed of delivery and the no shipping fee merits an excellent rating.
Date published: 2017-02-12
Rated

5

out of

5
by
Ukemaster
from
Exactly what I needed !
I'm using 2 of these UB1250 in parallel in conjunction with a 12V 30 W solar panel for low wattage applications (cellphone charge, led light strip, drone battery charging etc. ) where electric utilities are unavailable or out of service. I mounted them in a portable utility container with smart controller and various plug and connector adapters. Very portable making it great for camping or power outages. So far batteries work well for this application and shipping was on time.
Date published: 2017-02-11
Rated

4

out of

5
by
FL Shopper
from
Easy peasy
Needed to replace the battery in my home alarm system and this did the trick. Arrived very quickly and after a few hours of charging, works like a champ. Saved $$ in service call fees. Be sure to check your terminals before ordering as there are 2 size types.
Date published: 2017-02-01