C9 Christmas String Lights - Incandescent
C9 Christmas String Lights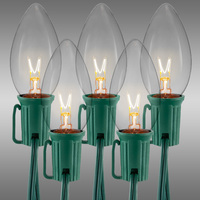 25 ft. Clear C9 Christmas String Lights - 25 Bulbs
Green Wire - 12 in. Bulb Spacing - 2 Max. Connection - Commercial Duty
Wire Gauge: 20 AWG
Connection: Male to Female
Lighted Length: 24 ft.
Lead Length: 6 in.
Tail Length: 6 in.
Bulb Spacing: 12 in.
Max. Connections: 2 Sets
Case Quantity: 12
Available with clear or colored bulbs, C9 Christmas lights can be used year round to decorate for holidays and events. Pair red and blue C9 light strings together for Fourth of July or Memorial Day, or hang multi-color lights over tables for a birthday party. These holiday C9 lights feature intermediate (E17) base bulbs measuring 1.125 inches in diameter, larger than C7 strings. C9 light strings are easier to see from a distance making them ideal for lining roof lines, fences, and driveways. If connecting multiple strings together, make sure to check the max connections for each C9 Christmas light string. Going over the maximum recommended connections can overload the circuit. Unlike LED string lights, incandescent C9 light strings have replaceable bulbs. When a bulb goes out, the string will stay lit as long as you leave the failed lamp in the socket. Just make sure to replace the C9 light as soon as possible with a Christmas C9 replacement bulb.