Christmas Lights - Outdoor String Lights
Christmas Lights - Outdoor String Lights
(Showing 51 categories)
---

History of Christmas Lights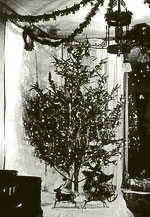 First Christmas tree with electric lights, 1882
Christmas lights have been one of the most popular Christmas decorations for the past century. In 1882, three years after Edison invented the first sensible light bulb, Edward H. Johnson created the first Christmas lights in his home in New York City. The tree was hand-wired and lit with 80 red, white, and blue globes. The lights blinked and twinkled while the tree slowly revolved.
Christmas lights were first made available for sale in 1890, but they were so expensive that most people could not afford them. They were a symbol of status among the wealthy and many of them rented the lights instead of buying them. In 1903, one set of 24 Christmas lights was sold for $12.00. Considering the average person made about $9 a week, this was far too extravagant for the normal family. In addition to the cost of the lights, the services of a wireman were required and, if the house was not electrically powered, they also needed a generator.
Christmas lights did not become practical for the average family until the 1930s. By this time, not only homes were decorated with electric lights. Stores, community Christmas trees, and government buildings were adorned with the twinkling lamps. General Electric began to sponsor community lighting competitions in the 1920s, but it wasn't until the 1950s that it was common to see rows of houses lit on the outside. Today, the places you find the lights are as numerous as the types of lights available.
Varieties of Christmas Lights
Mini-light strings: Most popular because of their versatility.
LED Christmas lights: Energy-efficient alternative available in a variety of sizes including LED C6, LED C7, LED C9, LED Wide Angle, and LED icicle stringers.
Battery-powered mini-lights: Used in even more applications.
Rice lights: Tiny points of light for smaller decorations.
C7 & C9 bulbs: Most prominent outdoor lights because of their larger size and greater luminescence.
Globes and Teardrops: Stylish indoor alternative available in a variety of sizes including G8, G23, G25, G28, and G40.
Net lights and trunk wraps: Easy way to decorate bushes and trees.
Light curtains and icicle lights: Mini-light strands that hang vertically.
Lighted decorations: Christmas Stars, lantern lights, and starlight spheres are favorites.
Commercial decorations: Perfect for stores, malls, and businesses and feature bows, wreaths, festoons, giant candy canes, Christmas topiary, and even life-size figures.