Solar Security and Flood Lights
Solar Powered Security and Flood Lights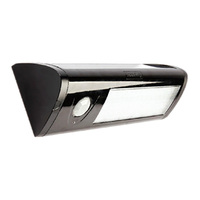 Pure Digital Solar Powered - LED Flood Fixture
4000 Kelvin - High Performance SMART Light
Lumens: 850
Height: 3.8 in.
Width: 13.5 in.
Depth: 4.5 in.
8 Watt - Solar Powered - LED Flood Fixture
Dusk to Dawn Photocell - 5000 Kelvin
Lumens: 1,000
Length: 17.5 in.
Height: 5.5 in.
Width: 17.5 in.
Solar Power Flood Lights
Since they don't rely on the power grid in order to operate, replacing outdoor flood light fixtures with solar powered fixtures can dramatically reduce energy costs and means you don't have to worry about your yard going dark during a power outage. Our solar power flood lights and security lights feature a dusk to dawn photo control, and the security lights also feature a motion sensor so you don't need to manually turn them on and off. All of these fixtures are designed to be durable and able to withstand harsh weather. Choose from a variety of styles and sizes to fit your outdoor lighting design. If you have questions or need assistance finding the right solar powered fixtures for your lawn, don't hesitate to contact of support staff.