1 Lamp T8 Electronic Ballasts | F17T8, F25T8, F32T8

Advance Centium ICN-1P32-N
(1) Lamp - F32T8 - 120/277 Volt - Instant Start - 0.77 Ballast Factor
Family: Centium
Voltage: 120
Ratings and Certifications: CSA, Indoor/Dry, UL
Ballast Factor: 0.77
Start Temp. (Min): 0 Deg. F
Power Factor: 99%
Start Method: Instant Start
THD: 10%
Length: 9.5 in.
Height: 1.18 in.
Width: 1.7 in.
Weight: 0.8 lb.
Warranty: 5-Year Limited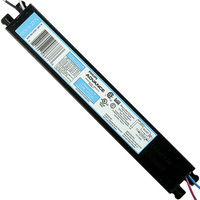 Advance Optanium IOP-A1P32-N
(1) Lamp - F32T8 - 120/277 Volt - Instant Start - 0.91 Ballast Factor
Family: Optanium
Voltage: 120
Ballast Factor: 0.91
Start Temp. (Min): -20 Deg. F
Power Factor: 99%
Start Method: Instant Start
THD: 10%
Length: 9.5 in.
Height: 1 in.
Width: 1.3 in.
Weight: 0.8 lb.
Warranty: 5-Year Limited

Fulham Workhorse 3 WH3-120-L - Multiple Lamp Combinations - 120V
See Attached Spec Sheet for Lamp Types - Instant Start
Family: Workhorse 3
Voltage: 120
Ratings and Certifications: Indoor/Dry, Outdoor, UL
Ballast Factor: 0.87
Maximum Current: 0.56 Amp
Maximum Power: 64 Watts
Start Temp. (Min): -20 Deg. F
Power Factor: 90%
Start Method: Instant Start
Length: 6.5 in.
Height: 1 in.
Width: 1.5 in.
Weight: 0.625 lb.
Warranty: 5-Year Limited
Case Quantity: 50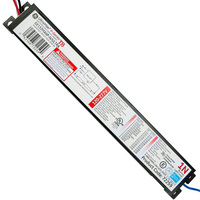 GE UltraMax P-N 72259
(1) Lamp - F32T8 - 120/277 Volt - Instant Start - 0.87 Ballast Factor
Order Code: GE132MAXP-N/ULTRA
Family: UltraMax
Voltage: 120
Ratings and Certifications: Indoor/Dry, Outdoor, UL
Ballast Factor: 0.87
NEMA: Premium
Replaces: GE132MAX-N/ULTRA
Start Temp. (Min): -22 Deg. F
Power Factor: 99%
Start Method: Instant Start
THD: 10%
Length: 9.5 in.
Height: 1 in.
Width: 1.3 in.
Weight: 0.6 lb.
Warranty: 5-Year Limited
Case Quantity: 10


Fulham Workhorse 2 WH2-120-L - Multiple Lamp Combinations - 120V
See Attached Spec Sheet for Lamp Types - Instant Start
Family: Workhorse 2
Voltage: 120
Ratings and Certifications: Indoor/Dry, Outdoor, UL
Ballast Factor: 0.87
Maximum Current: 0.33 Amp
Maximum Power: 35 Watts
Start Temp. (Min): -20 Deg. F
Power Factor: 90%
Start Method: Instant Start
THD: 38.70%
Length: 5.5 in.
Height: 1.25 in.
Width: 1 in.
Weight: 0.4375 lb.
Warranty: 5-Year Limited
Case Quantity: 50

Fulham Workhorse 2 WH2-120-C - Multiple Lamp Combinations - 120V
See Attached Spec Sheet for Lamp Types - Instant Start
Voltage: 120
Ratings and Certifications: Indoor/Dry, Outdoor, UL
Power Factor: 90%
Start Method: Instant Start
Warranty: 5-Year Limited

Fulham Workhorse 3 WH3-120-C - Multiple Lamp Combinations - 120V
See Attached Spec Sheet for Lamp Types - Instant Start
Family: Workhorse 3
Voltage: 120
Ratings and Certifications: Indoor/Dry, Outdoor, UL
Ballast Factor: 0.87
Maximum Current: 0.56 Amp
Maximum Power: 64 Watts
Start Temp. (Min): -20 Deg. F
Power Factor: 90%
Start Method: Instant Start
Length: 3.8 in.
Height: 1 in.
Width: 2.5 in.
Weight: 0.625 lb.
Warranty: 5-Year Limited
Case Quantity: 50

These ballasts operate one T8 lamp measuring 2, 3, or 4 feet in length. Ballasts with an indoor location rating should be used in dry locations only. Damp location rated ballasts can be used in areas where moisture is present or outdoors as long as the ballast is protected from contact with water. F32T8 ballasts with a NEMA premium label have meet CEE (Consortium for Energy Efficiency) high performance and efficiency standards.
Instant Start vs. Programmed Start
We have F17T8, F25T8, and F32T8 ballasts available in two start methods: instant start and programmed start. Instant start ballasts are ideal for lamps that are left on for long periods of time, and are commonly used in warehouses, offices, and retail spaces. These ballasts are considered the most efficient since they use less energy than other types of ballasts. Instant start ballasts use a high surge of 600 Volts to start the fluorescent lamp.
Programmed start ballasts are a better choice for areas where lamps will be turned on and off frequently such as stairwells, bathrooms, and hallways. The ballast first pre-heats the cathodes and then applies the voltage in order to start the lamps. This two stage operation helps to prolong the life of the lamp. To further increase the lamp life span, programed start ballasts can be paired with occupancy sensors.
Not sure which type of ballast is a good match for your lamp? Call 1-800-624-4488 today to speak with one of our helpful lighting experts!