Sold only by the 2 Pack for $132.00
PLTS-40070




3 Wattages - 3 Lumen Outputs - 3 Colors - 1 x 4 Selectable LED Troffer Fixture
Watts 25-30-35 - Lumens 2900-3480-4060 - Kelvin 3500-4000-5000 - PLT PremiumSpec - PLT-90293
Surge Protection: 1kV
Length: 47.7 in.
Height: 1.7 in.
Width: 11.8 in.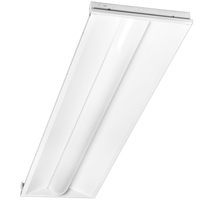 4 Wattages - 4 Lumen Outputs - 3 Colors - 1 x 4 Selectable LED Troffer Fixture
Watts 15-19-24-29 - Lumens 2200-2800-3500-4100 - Kelvin 3500-4000-5000 - 0-10 Volt Dimmable - DLC 5.1 Standard - 120-277 Volt - Halco 81779
Length: 47.7 in.
Height: 1.8 in.




1x4 LED Troffers
Searching for a new 1x4 LED troffer? Look no further. 1000Bulbs.com has the lighting fixtures you need for any space. Whether you need a cool white, halogen white or stark white fixture, with color temperatures ranging from 3500K to 5000K, we've got what you're looking for. To keep your space illuminated for years to come, these LED troffers have life spans ranging from 50,000 to 100,000 hours and warranties that last from five to 10 years. 1000Bulbs.com has the widest selection of LED troffers available for you to choose from. If you need help finding what you need, simply ask our expert staff. We're happy to help!