Ratings and Certifications
Hide
Type C - Requires the use of an External Driver - 3500 Kelvin - T8 Retrofit LED Tubes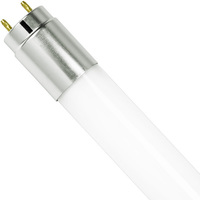 1800 Lumens - 12 Watt - 3500 Kelvin - 4 ft. LED T8 Tube Lamp - Type C
Works with External Driver - 120-277 Volt - Case of 25 - TCP LT812C35K
Life Hours: 50,000
Compatibility: Instant Start, Program Start
Operation: Type C External Driver
Lampholder(s): Non-shunted, Shunted
Warranty: 5-Year Limited
Sold only by the Case of 25 for $260.12





Type C 3500 Kelvin T8 retrofit LED Tubes
Type C 3500 Kelvin T8 retrofit LED tubes are a type of LED lighting solution designed to replace traditional fluorescent T8 tubes in existing fixtures. Type C LED tubes require an external driver to operate.
These LED tubes provide a warm, 3500 Kelvin light that is similar in color to traditional incandescent bulbs. This color temperature is particularly well-suited for applications where a more natural, warm light is desired, such as in homes, offices, and retail spaces.
One of the main benefits of Type C 3500 Kelvin T8 retrofit LED tubes is their energy efficiency. By retrofitting existing fixtures with LED tubes, users can significantly reduce their energy consumption and associated costs. Another benefit of Type C LED tubes is their long lifespan. LED lighting technology is known for its durability and longevity, and Type C LED tubes are no exception. With their long lifespan, users can enjoy reduced maintenance needs and lower replacement costs over time. Shop our Type C 3500 Kelvin T8 retrofit LED tubes toady!