Blue C7 Incandescent Christmas Light Bulbs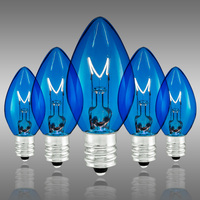 C7 - 5 Watt - Transparent Blue - Incandescent Christmas Light Replacement Bulbs
Candelabra Base - 130 Volt - 25 Pack
Bulb Color: Blue
Voltage: 130
Base Type: Candelabra (E12)
Package Quantity: 25
Sold only by the 25 Pack for $7.63

Discount Available!

C7 - 5 Watt - Opaque Blue - Incandescent Christmas Light Replacement Bulbs
Candelabra Base - 120 Volt - 25 Pack
Bulb Color: Blue
Voltage: 120
Base Type: Candelabra (E12)
Package Quantity: 25
Sold only by the 25 Pack for $7.63

Discount Available!

Blue C7 Incandescent Christmas Light Bulbs
Add a touch of elegance to your holiday decorations with stunning blue C7 incandescent Christmas light bulbs. These beautiful lights are perfect for indoor or outdoor use, creating a captivating display that will leave your friends and family in awe. The blue hue is ideal for creating a winter wonderland atmosphere, making it a perfect choice for those who want to transform their home or business into a magical winter wonderland.
Our high-quality C7 bulbs are built to last, ensuring you can enjoy them for many holiday seasons to come. So why settle for ordinary holiday lights when you can enhance your decor with the enchanting blue C7 incandescent Christmas light bulbs? Get yours today and let the magic of the season shine bright in your home!