Blue C9 Incandescent Christmas Light Bulbs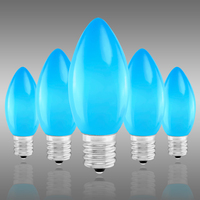 C9 - 7 Watt - Opaque Blue - Incandescent Christmas Light Replacement Bulbs
Intermediate Base - 120 Volt - 25 Pack
Bulb Color: Blue
Voltage: 120
Base Type: Intermediate (E17)
Package Quantity: 25
Sold only by the 25 Pack for $9.02


C9 - 7 Watt - Transparent Blue - Incandescent Christmas Light Replacement Bulbs
Intermediate Base - Double Dipped - 130 Volt - 25 Pack
Bulb Color: Blue
Voltage: 130
Base Type: Intermediate (E17)
Package Quantity: 25
Sold only by the 25 Pack for $9.02

Blue C9 Incandescent Christmas Light Bulbs
Blue C9 incandescent Christmas light bulbs are a classic and traditional choice for decorating during the holiday season. These larger bulbs are commonly used for outdoor decorating, such as on rooflines and trees, but can also be used indoors to create a nostalgic and vintage feel.
The bold and striking blue color of C9 incandescent bulbs is perfect for creating a winter wonderland or starry night sky atmosphere. The warm glow of incandescent bulbs can create a cozy and inviting atmosphere that is perfect for holiday gatherings and celebrations.
At 1000Bulbs.com, we offer a wide selection of blue C9 incandescent Christmas light bulbs and other holiday lighting options to help you create the perfect festive atmosphere. Browse our selection today to find the perfect lighting for your holiday decor.