Color Changing C9 LED Christmas Light Bulbs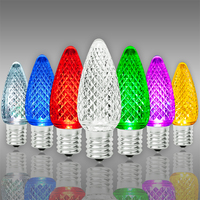 Color Changing - LED C9 - Christmas Light Replacement Bulbs - Faceted Finish
Intermediate Base - 50,000 Life Hours - SMD LED Retrofit Bulb - 130 Volt - Pack of 25
Wattage: 0.5 Watt
Amperage: 0.01 Amps
Length: 3.13 in.
Diameter: 1.13 in.
Sold only by the 25 Pack for $20.73
Color Changing C9 LED Christmas Light Bulbs
Looking for a way to create a visually stunning effect in your holiday decorations? Our color changing C9 LED Christmas light bulbs gradually cycle through hues of red, blue, green, yellow, orange, and purple, making them a unique and eye-catching option for both indoor and outdoor decorations. Measuring approximately 3 inches in length and 1 inch in diameter, these bulbs are a larger and more noticeable option than C7s for string lights.
With their energy-efficient and long-lasting design, color changing C9 LED Christmas light bulbs are a practical and stylish choice for any home or business. Use them to outline your roofline, wrap around trees and bushes, or hang from your porch or balcony. And with their vibrant range of colors, these bulbs are sure to be a crowd-pleaser at any holiday gathering. Don't settle for dull and boring Christmas lights. Add some dynamic and colorful display to your holiday season with our color changing C9 LED bulbs.