Total String Length (Feet)
Hide
Clearance - Christmas Mini Lights
(35) Bulbs - (1) Curtain Strand
Clear Mini Lights - 17 ft. Length - 6 in. Bulb Spacing - White Wire - Light Bar Sold Separately
Bulb Color: Clear
Wire Color: White
Wattage: 14 Watt
Voltage: 120
Connection: Male Only
Total String Length: 17.5 ft.
Bulb Spacing: 6 in.
Bulbs Per String: 35
Case Quantity: 12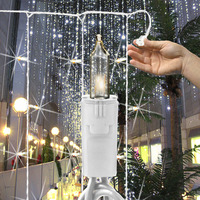 (100) Bulbs - Curtain Light - (5) Drops - Clear Mini Lights
3 ft. Length - 6 in. Drop Spacing - White Wire - Light Bar Sold Separately
Bulb Color: Clear
Wire Color: White
Wattage: 48 Watt
Voltage: 120
Connection: Male to Female
Total String Length: 3 ft.
Bulb Spacing: 6 in.
Bulbs Per String: 100
Case Quantity: 12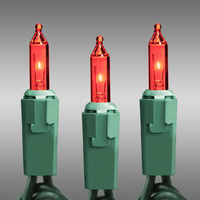 52 ft. - Green Wire - Christmas Mini Light String - (100) Amber Bulbs - 6 in. Bulb Spacing
Male to Female Connection - Indoor/Outdoor - 120 Volt - Christmas Lite Co. 8999GD
Lighted Length: 49.5 ft.
Lead Length: 24 in.
Tail Length: 3 in.
Max. Connections: 9 Sets
Case Quantity: 20

Warm White Icicle Lights - 8 ft. - 100 LED Mini Lights
White Wire - 23 Drops - 4 in. Drop Spacing - 4 in. Bulb Spacing - 120 Volt - 22 Max Connections - Commercial Duty - Coaxial connection requires one plug adapter (not included)
Bulb Shape: 5mm Wide Angle
Bulb Color: Warm White
Wire Color: White
Wire Gauge: 22 AWG
Wattage: 9.6 Watt
Voltage: 120
Drop Lengths: 15 in., 19.25 in., 6 in., 9 in.
Drop Spacing: 4 in.
Lighted Width: 7 ft.
Number of Drops: 23
Case Quantity: 24


Clearance - Christmas Mini Lights
Prepare for the holiday season with low-priced Christmas mini lights from 1000Bulbs.com! With single-color lights, clear lights, multi-color lights, and even energy-saving LED lights, our selection can't be beat. Choose from wire colors such as green, white, or black and string lengths up to 50 feet. Be sure to consider bulb spacing and number before making a purchase. When it comes to Christmas lights, it is best to buy early, and in bulk, for a guaranteed match in color and quality. Why not save a little extra money in the process? Stock up now on these marked down mini lights from 1000Bulbs.com!