Clear C9 Incandescent Christmas Light Bulbs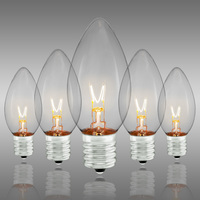 C9 - 7 Watt - Clear - Incandescent Christmas Light Replacement Bulbs
Intermediate Base - 130 Volt - 25 Pack
Bulb Color: Clear
Voltage: 130
Base Type: Intermediate (E17)
Package Quantity: 25
Sold only by the 25 Pack for $7.63

Discount Available!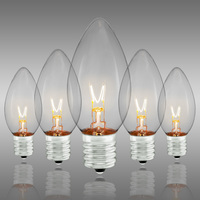 C9 - 10 Watt - Clear Twinkling - Incandescent Christmas Light Replacement Bulbs
Intermediate Base - - 120 Volt - 25 Pack
Bulb Color: Clear
Voltage: 120
Base Type: Intermediate (E17)
Package Quantity: 25
Sold only by the 25 Pack for $12.12

Discount Available!

Clear C9 Incandescent Christmas Light Bulbs
Clear C9 incandescent Christmas light bulbs are a timeless and classic choice for holiday decorations. These bulbs emit a warm and inviting glow that adds a touch of charm and elegance to any home during the holiday season. The clear color of the bulb allows the filament inside to be visible, creating a beautiful visual effect that's sure to delight.
When selecting clear C9 incandescent Christmas light bulbs, it's important to consider the wattage of the bulbs. Higher wattage bulbs will be brighter, but they will also consume more energy. It's also important to choose bulbs that are compatible with the type of light strand or socket that you are using.
At 1000Bulbs.com, we offer a wide range of clear C9 incandescent Christmas light bulbs that are perfect for both indoor and outdoor use. Our bulbs are high-quality and built to last, ensuring that your holiday display will shine bright all season long. So why wait? Add some warmth and charm to your holiday decor with clear C9 incandescent Christmas light bulbs!