Color Selectable LED T8 Tubes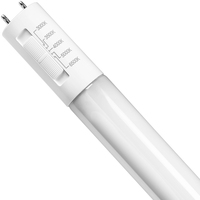 Sold only by the Case of 25 for $180.03
PLT-50302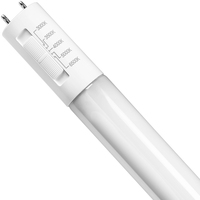 Sold only by the Case of 25 for $244.51

TCP-11230


Sold only by the Case of 25 for $180.03
PLT-50303



Sold only by the Case of 25 for $193.46

PLT-50304



Sold only by the Case of 25 for $193.46

PLT-50305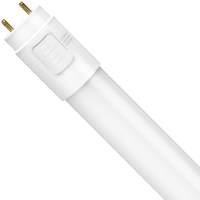 Sold only by the Case of 20 for $207.21

IRT-10414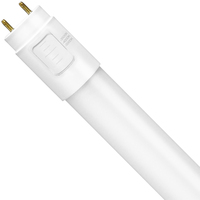 Sold only by the Case of 20 for $248.66

IRT-10415



Color Selectable LED T8 Tubes
Customize your lighting in your business or warehouse with these selectable LED T8 tubes. Each of these tubes allow you to choose between 3500, 4000, and 5000 Kelvin to set the color temperature to fit your environment. All of these tubes operate without a ballast, eliminating ballast maintenance costs and removing a failure point from your fixture. You can save on inventory costs with this these 3-in-1 LED T8 tubes since you can easily adjust the CCT on these tubes as needed without having to buy new tubes.
The three color temperatures offered by these selectable tubes each have their own distinct benefits. 3500K lighting creates a cozier atmosphere than the higher color temperatures and works great in spaces with earthy tones. The cooler 4000K color temperature is more neutral and works well for task lighting in kitchens and bathrooms. Meant to simulate the color temperature of a bright sunny day, 5000K is a white light that that is often used in office spaces to increase productivity.
LED Tube Operation Types
LED T8 tubes are made with a variety of operation types. Picking the right operation type is essential to getting the perfect lighting setup. Here is a quick overview of LED T8 tube light operation types;
Type A: These are ballast compatible (plug-and-play and hybrid) lamps, but not every LED tube will be compatible with all ballasts. Make sure to check the Ballast Compatibility PDF or spec sheet. If you have questions or concerns, call one of our lighting experts who are standing by.
Type B: Ballast-bypass (direct-wire) lamps are not ballast compatible. These tubes require the ballast be disconnected and removed from the fixture prior to installation. These lamps are wired directly to line voltage and often require non-shunted sockets, so the sockets may need to be changed at the same time. However double-ended LED tubes wired at both ends to utilize non-shunted or shunted lamp holders are available.
Type A/B: Hybrid lamps, like type A tubes, are not compatible with all ballasts. Check the Ballast Compatibility PDF or spec sheet for a full list of fluorescent ballasts that are compatible with these LED tube lights. Hybrid tubes can also be used as direct-wire tubes, making these a flexible option. Check the installation instructions or confirm with a licensed electrician if you choose to bypass the ballast.
Type C: LED driver compatible tubes. A newer take on type A and type B tubes, these lamps operate with an external LED driver instead of using the existing ballast. The driver must be purchased with the tubes to ensure compatibility. The ballast is bypassed during installation, eliminating the compatibly issues and maintenance costs typically associated with ballasts. The remote driver allows for controllable dimming with any 0-10V dimmer once installed, letting you adjust the wattage as need to increase or decrease the lumen output.
LED Color Selectable LED T8 Tube FAQs
How can I change the color of these LED tubes?
Like most other color selectable fixtures and bulb, these tube lights have a selector switch on one end that allows the user to quickly change color temperatures.
Do these LED tubes require a ballast?
Most LED T8 tubes do not require a tube. The only type of LED tube that requires a ballast is a plug-and-play. Plug-and-play LED T8 tubes work off the existing fluorescent ballast without any rewiring. The other types of LED T8 tubes do not require a ballast to operate.
Are LED tubes more efficient than fluorescent tubes?
Yes, LED tube lights use much less energy than fluorescent tubes.