Emergency Backup LED T8 Tubes
12.5 Watt - 2000 Lumens - 4 ft. Color Selectable LED T8 Tube Lamp with Emergency Backup - Type B Ballast Bypass
Kelvin 3500-4000-5000 - Single-Ended Power - 120-277 Volt - Case of 10 - PLT-90377
Keep your business lit during a power outage with PLT's case of 10 4-ft. LED T8 tubes with emergency backup, which emit 500 lumens for 90 minutes in emergency mode.
Sold only by the Case of 10 for $584.04


Sold only by the 2 Pack for $171.24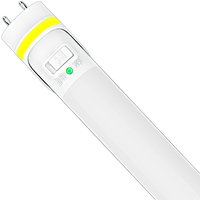 Sold only by the 2 Pack for $171.24




Install emergency T8 LED tubes with an integrated emergency backup to ensure that your space will be illuminated during power outages. You can install these emergency LED tubes without having to worry about their compatibility with ballasts or traditional emergency backups.
These emergency LED tubes' compact design makes them ideal for small spaces where traditional backups can't be installed. Use the T8 tubes' integrated test switch to make sure they'll be ready in an emergency. These emergency backup tubes operate for up to 90 minutes after the power goes out.