Emergency Light Remote Heads | Exitronix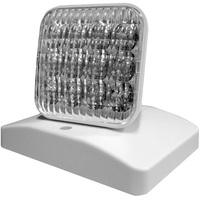 LED Remote Lamp Head
For Use with CLED, VLED or LED-90 Emergency Lighting Units - White - Exitronix MLED1-W
Family: MLED Series
Finish: White
Housing: Thermoplastic
Lamp Head Wattage: 1.5 Watt
Use With: CLED Combo Exits, LED-90, VLED Combo Exits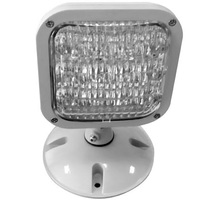 LED Remote Lamp Head
For Use with CLED, VLED or LED-90 Emergency Lighting Units - Weatherproof - Gray - Exitronix MLED1-G-WP
Family: MLED Series
Finish: Gray
Housing: Thermoplastic
Lamp Head Wattage: 1.5 Watt
Use With: CLED Combo Exits, LED-90, VLED Combo Exits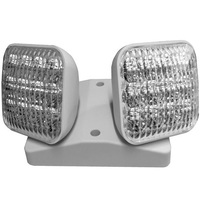 LED Double Remote Lamp Head
For Use with LED-90R Emergency Lighting Units - White - Exitronix MLED2-W
Family: MLED Series
Finish: White
Housing: Thermoplastic
Lamp Head Wattage: 1.5 Watt
Use With: CLED Combo Exits, LED-90, VLED Combo Exits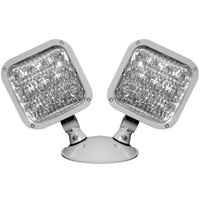 LED Double Remote Lamp Head
For Use with CLED, VLED or LED-90 Emergency Lighting Units - Weatherproof - Gray - Exitronix MLED2-G-WP
Family: MLED Series
Finish: Gray
Housing: Thermoplastic
Lamp Head Wattage: 1.5 Watt
Use With: CLED Combo Exits, LED-90, VLED Combo Exits

Emergency Light Remote Heads
When it comes to emergency lighting systems, remote heads can be a valuable addition. Remote heads are secondary light sources that can be connected to an existing emergency light to provide additional coverage in the event of a power outage. We offer both LED and tungsten lights, giving you the flexibility to choose the type of lighting that best suits your needs.
Choosing the Right Remote Head for Your Emergency Lighting System
It's important to note that not all emergency light remote heads are compatible with all remote capable emergency lights. To ensure that you choose the right remote head for your emergency lighting system, it's essential to check the compatibility information provided in the PDFs on each product page.
If you're not sure which remote head is compatible with your emergency light our team is available to answer any questions you may have and help you choose the right remote head for your needs. Contact our team at 1-800-624-4488 and we'll be happy to help.