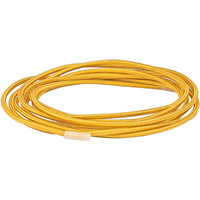 8 ft. Cord
Rayon Covered Cord - Gold - 18 Gauge
Safety Rating: N/A
Color: Gold
Wire Gauge: 18 AWG
Cord Length: 8 ft.
10 ft. - Rayon Antique Wire
Gold - 18 Gauge - Twisted Cord
Safety Rating: N/A
Color: Gold
Wire Gauge: 18 AWG
Cord Length: 10 ft.
Restore antique light fixtures to their fashionable and unique vintage style with rayon-covered lamp wire offered in different styles, colors, and lengths to match your lamp. Featuring a 300-volt maximum voltage rating and two conducting copper wires, choose from a twisted, parallel, or single-wire cord in 8 to 100 feet. Finish off your project with antique electrical plugs opening quickly for simple replacement.
Additional options include 8 to 500 feet of black lamp-rolled wire designed for household appliances, including clocks, radios, lamps, and fans.