Bulb Spacing (Inches)
Hide
Total String Length (Feet)
Hide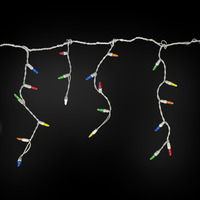 Multi-Color Icicle Lights - 8 ft. - 70 LED Mini Lights
White Wire - 15 Drops - 5.5 in. Drop Spacing - 3 in. Bulb Spacing - 120 Volt - 40 Set Max Connection - Commercial Duty
Bulb Color: Multi-Color
Wire Color: White
Wire Gauge: 22 AWG
Wattage: 4.8 Watt
Drop Lengths: 15 in., 18 in., 9 in.
Bulbs Per String: 70
Lighted Width: 7 ft.
Number of Drops: 15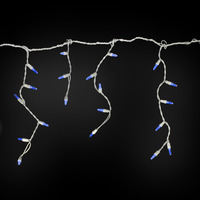 Blue Icicle Lights - 8 ft. - 70 LED Mini Lights
White Wire - 15 Drops - 5.5 in. Drop Spacing - 3 in. Bulb Spacing - 120V - 45 Set Max Connection - Commercial Duty
Bulb Color: Blue
Wire Color: White
Wire Gauge: 22 AWG
Wattage: 4.8 Watt
Drop Lengths: 15 in., 18 in., 9 in.
Bulbs Per String: 70
Lighted Width: 7 ft.
Number of Drops: 15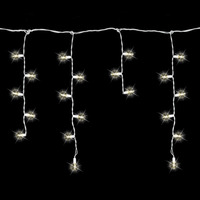 Warm White Icicle Lights - 8 ft. - 70 LED Mini Lights
White Wire - 15 Drops - 6 in. Drop Spacing - 3 in. Bulb Spacing - 120V - 45 Set Max Connection - Commercial Duty
Bulb Color: Warm White
Wire Color: White
Wire Gauge: 20 AWG
Wattage: 4.8 Watt
Drop Lengths: 15 in., 18 in., 9 in.
Bulbs Per String: 70
Lighted Width: 7 ft.
Number of Drops: 15


Warm White Deluxe Icicle Lights - 11 ft. - 105 LED Mini Lights
White Wire - 24 Drops - 6 in. Drop Spacing - 3 in. Bulb Spacing - 120 Volt - 30 Set Max Connection - Commercial Duty
Bulb Color: Warm White Deluxe
Wire Color: White
Wire Gauge: 22 AWG
Wattage: 7.2 Watt
Drop Lengths: 12 in., 15 in., 18 in., 9 in.
Bulbs Per String: 105
Lighted Width: 12 ft.
Number of Drops: 24

Warm White Icicle Lights - 13 ft. - 105 LED Mini Lights
White Wire - 24 Drops - 6 in. Drop Spacing - 4 in. Bulb Spacing - 120 Volt - 29 Set Max Connection - Commercial Duty
Bulb Color: Warm White
Wire Color: White
Wire Gauge: 22 AWG
Wattage: 7.2 Watt
Drop Lengths: 15 in., 18 in., 6 in., 9 in.
Bulbs Per String: 105
Lighted Width: 12 ft.
Number of Drops: 24


16.4 ft. Twinkly LED Icicle Light String with 190 RGB LEDs - 16 Million Colors
Transparent Wire - 10 Drops - 3.9 in. Drop Spacing - Twinkly TWI190STP-TUS
Bulb Shape: Flat Head
Color: Addressable RGB
Wattage: 24 Watt
Connection: Male Only
Lighted Length: 16.4 ft.
Bulbs Per String: 190
Case Quantity: 12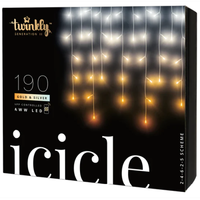 16.4 ft. Twinkly LED Icicle Light String with 190 AWW LEDs - Amber, Warm White and Cold White
Gold and Silver Edition - Transparent Wire - 10 Drops - 3.9 in. Drop Spacing - Gold and Silver Edition - Twinkly TWI190GOP-TUS
Bulb Shape: Flat Head
Color: Addressable AWW Cool White to Warm White
Wattage: 24 Watt
Connection: Male Only
Lighted Length: 16.4 ft.
Case Quantity: 12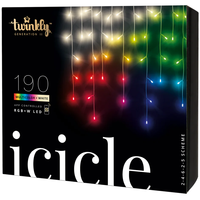 16.4 ft. Twinkly LED Icicle Light String with 190 RGB+W LEDs - 16 Million Colors + Pure Warm White
Transparent Wire - 10 Drops - 3.9 in. Drop Spacing - Twinkly TWI190SPP-TUS
Bulb Shape: Flat Head
Color: Addressable RGB+W
Wattage: 24 Watt
Connection: Male Only
Lighted Length: 16.4 ft.
Bulbs Per String: 190
Case Quantity: 12




LED Icicle Light Strings
Make your holiday season or special event truly magical with LED icicle light strings. These stunning lights feature a unique shape and vibrant colors that will captivate your guests and bring your space to life. LED technology makes them energy-efficient and long-lasting, providing beautiful illumination without breaking the bank.
But that's not all - LED icicle light strings are also incredibly durable, designed with high-quality materials that can withstand harsh weather conditions and frequent use. Unlike traditional lights, they generate very little heat, making them much safer to use. With their easy-to-install design and low maintenance, LED icicle light strings are the perfect hassle-free lighting solution.
Choose from a wide variety of colors and styles to suit your needs, and enjoy the magic of LED icicle light strings all year long. Whether you're decorating for a holiday, a wedding, or just adding some sparkle to your home, LED icicle light strings are sure to impress.