LED Corn Lamp - Hazardous Location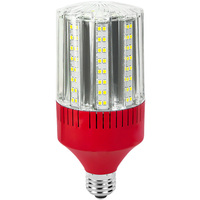 3425 Lumens - 24 Watt - Class 1 Div 2 Rated - LED Corn Bulb
150 Watt Metal Halide Equal - 5700 Kelvin - Medium Base - 120-277 Volt - Light Efficient Design LED-8929E57-HAZ
Life Hours: 50,000
Height: 6.75 in.
Diameter: 2.9 in.
Warranty: 5-Year Limited
Case Quantity: 9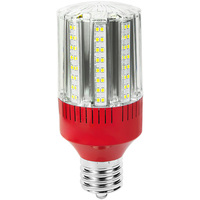 3425 Lumens - 24 Watt - Class 1 Div 2 Rated - LED Corn Bulb
150 Watt Metal Halide Equal - 5700 Kelvin - Mogul Base - 120-277 Volt - Light Efficient Design LED-8929M57-HAZ
Life Hours: 50,000
Height: 6.75 in.
Diameter: 2.9 in.
Warranty: 5-Year Limited
Case Quantity: 9


LED corn bulbs for hazardous locations allow you to have efficient lighting while adhering to safety regulations. As defined by the National Fire Protection Association (NFPA) for the National Electric code (NEC) and the Occupational Safety and Health Administration (OSHA), these LED corn lights are rated for Class 1, Division 2 hazardous locations. These environments may have traces of flammable gases, vapors, or flammable liquids like hydrogen, ammonia, and propane in the atmosphere for a short period of time. Areas like petroleum refineries, gas stations or storage areas, as well as aircraft hangars and their fuel service areas or utility gas plants and operations involving the storage and handling of natural gas or liquefied petroleum gas could be considered Class 1, Division 2 locations. In addition, areas where the ignitable vapors of cleaning fluids might be present, such as dry cleaning plants or spray paint finishing areas can also be grouped into the same designation.
LED corn bulbs rated for these locations actively use cooling technology and methods to help dissipate any heat in the fixture, reducing the risk of fire in the unlikely event of a liquid or gas leak. Also known as explosion-proof lighting, the sturdy design of these LED corn lamps will contain an internal explosion within the bulb's casing while providing flame paths for burning gas to safely escape.
Determining what lighting is appropriate for harshest environments can be tricky, so call our lighting experts at 1-800-624-4488 for helpful advice and lighting solutions.