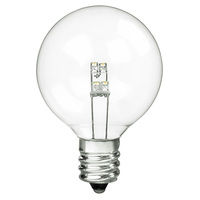 LED - G16 Clear Globe - 2 in. Diameter
0.6 Watt - 2700 Kelvin Warm White - Candelabra Base - 130 Volt
Length: 2.75 in.
Diameter: 2 in.

Discount Available!
G16 LED Christmas Bulbs
Looking for a way to add a warm and inviting glow to your patio or Christmas light display? Look no further than our G16 LED Christmas bulbs. With their vintage-style filament and clear glass design, these bulbs are the perfect way to create a cozy and nostalgic atmosphere in any setting.
But these bulbs are more than just stylish - they're also highly energy-efficient. By using less than one watt of power, they consume significantly less energy than traditional incandescent bulbs, which means you can save money on your electricity bill while also reducing your carbon footprint.
Our G16 LED bulbs also have a long lifespan and are incredibly versatile. You won't have to worry about replacing them anytime soon, plus they're perfect for use in marquee signs, stringers during the holiday season, or outdoor celebrations year-round. And because they're LED, they're much more durable than traditional incandescent bulbs, which means they can stand up to harsh weather and outdoor conditions.
Add a touch of nostalgia and warmth to any setting while also saving money and energy. Shop G16 LED Christmas bulbs today.