Ratings and Certifications
Hide
LED Grow Lights and LED Grow Bulb Fixtures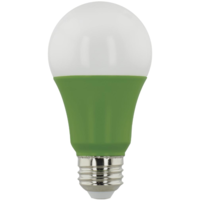 9 Watt - LED A19 Bulb - Grow Light - Full Spectrum
3500 Kelvin - 60 Watt Incandescent Equal - E26 Base - 120 Volt - Satco S11440
Life Hours: 15,000
Enclosed Fixture Rated: Yes
Height: 4.41 in.
Diameter: 2.36 in.


9 Watt - LED BR30 Bulb - Grow Light - Full Spectrum
- 3500 Kelvin - 65 Watt Incandescent Equal - Medium Base - 120 Volt - Satco S11441
Life Hours: 25,000
Enclosed Fixture Rated: Yes
Height: 5.12 in.
Diameter: 3.7 in.
Warranty: 3-Year Limited


16 Watt - LED PAR38 Bulb - Grow Light - Full Spectrum
3500 Kelvin - 75 Watt Incandescent Equal - 80 Deg. Wide Flood - Medium Base - 120 Volt - Satco S11442
Life Hours: 25,000
Enclosed Fixture Rated: Yes
Height: 5 in.
Diameter: 4.72 in.
Warranty: 3-Year Limited

LED Grow Light Bulbs
If you are lacking a yard for building flower beds or have the dreaded "black thumb" when it comes to houseplants, don't worry. You can easily start seeds indoors to transfer outside later, or grow house plants in rooms that typically do not receive enough natural light. 1000Bulbs.com offers the best LED grow lights from top brands to replace metal halide (MH) and high pressure sodium (HPS) grow lights.
What Are the Benefits to LED Grow Lights?
LED technology allows you to better target the optimal wavelengths for your plants. Research has shown that plants need blue light in the 400 to 500 range, and red light in the 640 to 680 range in order to grow properly. While HPS bulbs can produce a strong light, most of the output falls outside of these ranges. The best LED grow lights can be designed to match these specific wavelengths, cutting out other colors that are not needed. To learn more in-depth information about LED grow light colors, read our blog: What Color LED Grow Light Do I Need?
When using MH or HID grow lamps, are you having trouble with your plants getting burned, drying out, or not living as long as expected? That could be due to excess heat being produced by the lamps. LED plant lights generate far less heat than their MH or HID counter parts, increasing you're plants life span and decreasing heat damage. You won't need to spend as much on cooling systems either.
LED grow light bulbs are more energy efficient, need far less energy than MH bulb or fluorescent tube. Since they operate with arrays of LED diodes, LED grow lights will last longer as well. Several of our LED plant lights can last up to 50,000 hours. An added benefit is that LEDS gradually dim over its life span, giving you plenty of warning when it's time to replace it.
LED grow lights also allow for more flexibility when designing your grow light set up. Because they generate less heat, you can suspend them closer to the plants in multi-layer vertical systems. They can also be used in between the plants as well. Both of these setups helps target the light more directly to the plants.
Best LED Grow Lights for Sale
1000Bulbs.com offers both grow light fixtures and LED grow light bulbs. LED grow light fixtures come pre-assembled and are easy to install. You simply hang them up in the desired location and plug them in. Some fixtures deliver a preset spectrum of light that is ideal for a specific growing stage. Others give you the option of toggling back and forth between preset spectrums as needed. These fixtures can be mounted between 6 inches to 24 inches above the plants, and can cover up to a 6-foot by 6-foot area depending on the fixture. To help during your set up, we carry hanging accessories and additional power cords as well.
For lighting smaller areas, we offer the best LED glow light bulbs. With a PAR shape measuring 4.8-inches in diameter, these LED plant lights can be used in incandescent fixtures that accept a medium (E26) base. They cover an area of 1 square foot and should be mounted 18 to 24-inches above your plants. Our top LED grow lights are available in different colors, allowing you to easily change out bulbs as needed to meet your plants current growing stage. For example, a blue light can be used to help promote stem growth, while a white light can be used at any stage of the growing cycle.
How Long Should the Grow Light Be Left On?
There is no general time frame for how long grow lights should be left on. It is dependent on a number of factors including the type of plant, the growing stage it is in, and the growing region. The best course of action is to look up the specific needs of your plants. Once you have found the right balance, the easiest way to maintain this is to use plug-in timers. Plug-in timers allow you to easily set on and off times for one or two units, taking the worry out of keeping track of your lighting schedule.
Are you looking for the top LED grow lights to incorporate into your hydroponic system? Call 1-800-624-4488 today and a member of our staff can help you find exactly what you are looking for.