Line Voltage Track Lighting Kits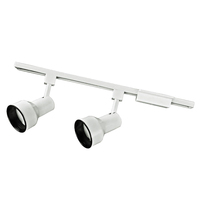 White - 2 ft. Track Kit - (2) Step Type Cylinder Heads
For R20/PAR20 Lamps - Single Circuit - 120 Volt - Ready For Installation - Nora NTL-172W
Compatibility: H-Type
Mounting: Instructions & Hardware Included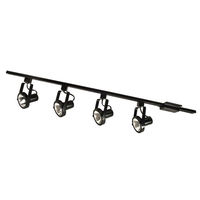 Black - 4 ft. Track Kit - (4) Gimbal Ring Heads
For PAR30 Lamps - Single Circuit - 120 Volt - Ready For Installation - Nora NTL-158B/4H
Compatibility: H-Type
Mounting: Instructions & Hardware Included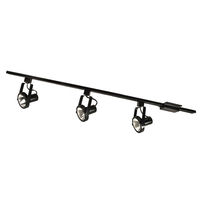 Black - 4 ft. Track Kit - (3) Gimbal Ring Heads
For PAR30 Lamps - Single Circuit - 120 Volt - Ready For Installation - Nora NTL-158B
Compatibility: H-Type
Mounting: Instructions & Hardware Included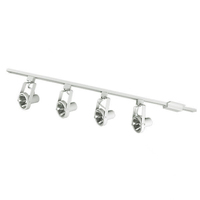 White - 4 ft. Track Kit - (4) Gimbal Ring Heads
For 75 Watt PAR30 Lamps - Single Circuit - 120 Volt - Ready For Installation - Nora NTL-158W/4H
Compatibility: H-Type
Mounting: Instructions & Hardware Included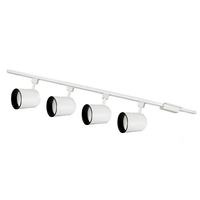 White - 4 ft. Track Kit - (4) Round Back Cylinder Heads
For R30/PAR30 Lamps - Single Circuit - 120 Volt - Ready For Installation - Nora NTL-156W/4H
Compatibility: H-Type
Mounting: Instructions & Hardware Included

These track packs include everything you need for installation in homes and businesses, including track heads and power feeds. Line voltage track is the most common type of track lighting and operates directly off of 120 Volts. There is no need for transformers. Many of these track packs feature hardwired installation. A few, however, are plug-and-play and include a power cord that can be plugged into a standard outlet. These line voltage track packs are single circuit, meaning they are controlled by only one switch.
Line voltage track packs are available in halogen and LED options. Halogen packs are H-type compatible and can be used with either halogen or LED bulbs, which are sold separately. LED packs are more energy efficient compared to halogen and are also H-type compatible. Bulbs are included with some LED packs. Please note that some LED track packs are only compatible with certain brands of H-type track heads. Both LED and halogen track packs come in several finishes including white, black, and nickel.
Not sure which line voltage track pack is right for your application? Our product experts are ready to help. Call 1-800-624-4488 for assistance today!