Dimmers & Switches - Lutron Diva

CFL/LED or Incandescent/Halogen Dimmer Switch - Single Pole/3-Way
Paddle and Slide Switch - White - 600 Watt Max. Incandescent or 250 Watt Max. LED - 120 Volt - Lutron DVCL-253P-WH
Dimming Type: MLV (Triac/Forward Phase)
Load Rating: 250W (LED/CFL) 600W (Incan/Halogen)
Load Type: CFL, Halogen, Incandescent, LED
Operation: 3-Way, Single Pole
Height: 4.7 in.
Width: 2.94 in.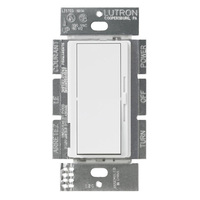 0-10 Volt LED Dimmer Switch with Built-in Relay - Single Pole/3-Way
Paddle and Slide Switch - White - 8 Amp Max. - 120-277 Volt - Lutron DVSTV-WH
Dimming Type: 0-10 Volt
Load Rating: 8.0 Amp
Load Type: LED
Operation: Single Pole / 3-Way
Height: 4.7 in.
Width: 2.94 in.



Lutron Diva Dimmers
Look no further for all of your dimmer switch needs, with 1000Bulbs.com, you'll find everything you've been searching for. These Diva dimmer switches have a paddle switch to quickly turn the light on and off and a small slide to adjust the light level. You have several color choices with Lutron Diva dimmer switches to match your interior design, and each dimmer switch comes with a standard one-year warranty. If you're looking for paddle and slide switches, 1000Bulbs.com has a large inventory, the competitive prices and the excellent customer service.