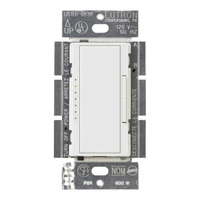 CFL/LED or Incandescent/Halogen Dimmer - Single Pole/3 Way
White - 150 Watt Max. LED or 650 Watt Max. Incandescent - Rocker and Slide Switch - Lutron MACL-153M-WH
Dimming Type: MLV (Triac/Forward Phase)
Load Rating: 150W (CFL/LED) 600W (Incan/Halogen)
Load Type: CFL, Halogen, Incandescent, LED
Operation: Single Pole / 3-Way
Height: 5 in.
Width: 3 in.


Lutron Maestro Dimmers
The Lutron Maestro dimmers provide easy-to-use tap switches to turn lights on at a preset light level and also feature a rocker dimmer switch to manually adjust the lights. These dimmers come in a variety of colors to match your interior design, while LEDs softly glow in the dark for easy dimmer location. If you're looking for a dimmer with plenty of functionality, look no farther than 1000Bulbs.com.