Multi-Color C9 Incandescent Christmas Light Bulbs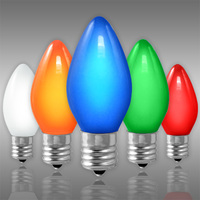 C9 - 7 Watt - Opaque Multi Color - Incandescent Christmas Light Replacement Bulbs
Intermediate Base - 120 Volt - 25 Pack
Bulb Color: Multi-Color
Voltage: 120
Base Type: Intermediate (E17)
Package Quantity: 25
Sold only by the 25 Pack for $7.80

Discount Available!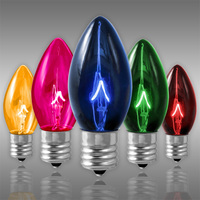 C9 - 7 Watt - Transparent Multi Color - Incandescent Christmas Light Replacement Bulbs
Intermediate Base - Double Dipped - 130 Volt - 25 Pack
Bulb Color: Multi-Color
Voltage: 130
Base Type: Intermediate (E17)
Package Quantity: 25
Sold only by the 25 Pack for $7.81

Discount Available!

Multi-Color C9 Incandescent Christmas Light Bulbs
Bring your holiday decorating to the next level with multi-color C9 incandescent Christmas light bulbs! These festive bulbs will add a touch of magic to your home and create a warm and inviting atmosphere for your family and guests. With a variety of colors to choose from, you can mix and match to create your own unique design or stick with a classic red, green, and white theme.
Not only do these multi-color C9 incandescent bulbs look stunning, but they are also durable and long-lasting, ensuring that you can enjoy them for many holiday seasons to come. Plus, with easy-to-replace bulbs, you can easily swap out any that may burn out without having to replace the entire string of lights. So why settle for boring and bland Christmas lights when you can make a statement with multi-color C9 incandescent bulbs? Upgrade your holiday decor and spread some festive cheer with these must-have lights!