Neon Sign Transformers | Neon Sign Light Parts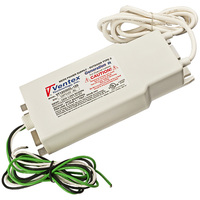 Ventex VT12030CL-120
Neon Power Supply - Generation III - 100 to 12,000 Volt - 30 mA - 120 Volt Input
Family: Generation III
Amperage: 30 mA
Input Voltage: 120 Volt
Output Voltage: 100-12,000 Volts
Power Factor: 98%
Warranty: 2 Years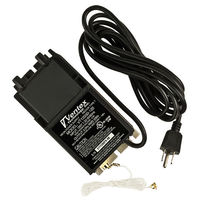 Ventex VT12030-120
Neon Power Supply - Generation III - 100 to 12,000 Volt (Peak to Peak) - 30 mA - 120 Volt Input - Pull Chain Switch
Family: Generation III
Amperage: 30 mA
Input Voltage: 120 Volt
Output Voltage: 100 - 12,000 (Peak to Peak)
Power Factor: 93%
Warranty: 2 Years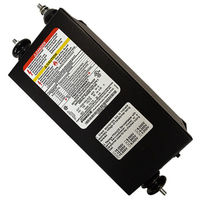 France 9030 P5G-2UE
Neon Transformer - P5G Style ServiceMaster - 9,000 Volt - 30 mA - 120 Volt Input
Amperage: 30 mA
Input Voltage: 120
Output Voltage: 100 - 9,000
CSA Listed: Yes
Length: 8.37 in.
Height: 5.39 in.
Width: 3.7 in.
Weight: 13 lbs.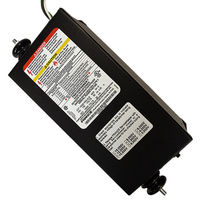 France 15030 P5G-2UE
Neon Transformer - P5G Style Servicemaster - 15,000 Volt - 30 mA - 120 Volt Input
Amperage: 30 mA
Output Voltage: 15,000
Height: 5.71 in.
Warranty: 3-Year Limited
These electronic neon transformers operate by using two coils to step up the input voltage to high voltage in order to power the sign. Alternating current (AC) is passed back and forth between the primary and secondary coils, causing the coils to turn. The voltage is stepped up when the secondary coil turns more and stepped down when the primary coil turns more.
Some neon sign transformers have dimming or flashing capabilities. Dimmable neon transformers have specialized circuitry and are controlled by a knob usually located near the power switch. These transformers should not be paired with regular dimmers. Using a regular dimmer can damage the sign or create a fire hazard. Many flashing neon light transformers have controls built in, but some may require a separate controller.
Neon sign transformers rated for indoor locations should be used in applications where the transformer will not come into contact with any moisture or water. These transformers are perfect for signs in decorative signs and "open" signs on the inside windows. Outdoor rated transformers can be used outdoors as long as the neon transformer is protected from the weather. Use these transformers for outdoor signs for businesses, restaurants, and other locations.
Need help finding a neon sign transformer with the correct voltage for your sign? Speak with one of our lighting experts today at 1-800-624-4488 for assistance.