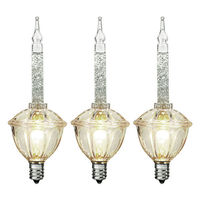 Vickerman V490774 - 3 Pack
Silver Glitter Bubble Light Replacement Bulbs - Vickerman V490774
Bulb Shape: Bubble Light
Bulb Color: Silver
Wattage: 5 Watt
Voltage: 120
Base Type: Candelabra (E12)
Package Quantity: 3
Sold only by the 3 Pack for $6.60
CMS-BULBLWHT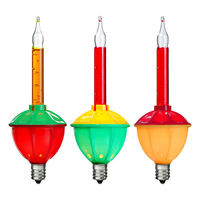 Vickerman V490773 - 3 Pack
Multi-Color Bubble Light Replacement Bulbs - Vickerman V490773
Bulb Shape: Bubble Light
Bulb Color: Multi-Color
Wattage: 5 Watt
Voltage: 120
Base Type: Candelabra (E12)
Package Quantity: 3
Sold only by the 3 Pack for $6.60
CMS-BULBLMU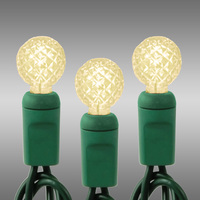 24 ft. Stringer - (70) LED Mini G12s - Warm White
4 in. Spacing - Green Wire - 120 Volt
Bulb Color: Warm White
Wire Gauge: 22 AWG
Wattage: 4.8 Watt
Lighted Length: 23 ft.
Bulbs Per String: 70
Case Quantity: 25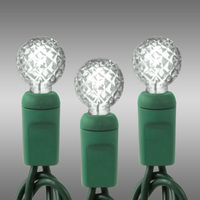 24 ft. Stringer - (70) LED Mini G12s - Pure White
4 in. Spacing - Green Wire - 120 Volt
Bulb Color: Pure White
Wire Gauge: 22 AWG
Wattage: 4.8 Watt
Lighted Length: 23 ft.
Bulbs Per String: 70
Case Quantity: 25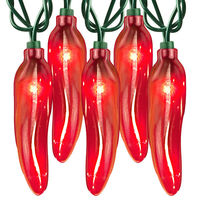 (35) Bulbs - Red Chili Pepper Lights
Length 12 ft. - Bulb Spacing 3.5 in. - Green Wire - 120V
Bulb Color: Red
Wire Color: Green
Wire Gauge: 22 AWG
Wattage: 14 Watt
Voltage: 120
Lighted Length: 10.2 ft.
Bulbs Per String: 35
Case Quantity: 12


7 Multi-Color Bubble Lights
Length 7 ft. - Bulb Spacing 12 in. - Green Wire - 120 Volt - Christmas Lite Co. 1056
Bulb Color: Blue, Orange, Red
Wire Color: Green
Lighted Length: 6 ft.
Bulb Spacing: 12 in.
Bulbs Per String: 7
Case Quantity: 10

Novelty Light Strings
Are you tired of using the same boring, standard shape Christmas lights each year? Add some fun back into your decorations with novelty light strings. These lights can be used all year to decorate for parties, light up weddings, and add the finishing touch to craft projects.
LED Globe Light Strings
Create a festive feel for holidays and parties any time of year with LED globe light strings. Each plexiglass G13 bulb is filled with tinsel that has a sparkling effect when lit. For added protection when used outdoors, these strings are single piece molded construction to keep water from invading the sockets. This means that the bulbs cannot be replaced, but you can use LED light testers and "PODs" to repair the string if a bulb does go out.
Bubble Light Strings
Recapture the look and feel of Christmases past by decorating your trees, garlands, and centerpieces with bubble light strings. Made popular during the 1940s, bubble lights have delighted people of all ages for well over 70 years. Bubble lights work by using an incandescent bulb to heat a vial of liquid. Once heated the liquid gently bubbles for an eye-catching effect.
These retro Christmas lights are designed to resemble the look of the "Tulip" bubble lights that were popular through the early 1970s. While vintage bubble lights used the same base as C6 bulbs (E10), these lights use a candelabra (E12) base. You can connect up to seven sets end-to-end for both indoor and outdoor use. These light strings are available in solid and multi-color options.
G12 LED Mini Berry Light Strings
Add some pizazz to your greenery with G12 LED mini berry light strings. Featuring a faceted bulb that shines light in multiple directions, these lights create small pops of color once nestled into wreathes, topiaries, and garlands. LED mini berry light strings make a great addition to craft projects as well. Like LED globe tinsel lights, the bulbs are not replaceable but can be repaired with "PODs ".
Chili Pepper Lights
Are you a lover of all things spicy or just a foodie in general? Deck out your halls with these fun chili pepper lights. Available in classic red or multiple colors, these unique lights are a great choice for decorating kitchens, restaurants, and other indoor locations.
Looking for more Christmas decorations to go with your lights? 100Bulbs.com has everything you need for Christmas!