Solar Powered Post Top Lamp Fixtures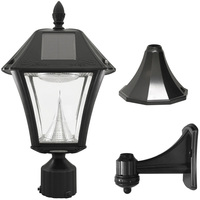 Solar Baytown II Wall Lantern
6000 Kelvin - 130 Lumens - Black - Includes Wall, Flat Surface, and Post Top Mounting Kit - Gama Sonic GS-105FPW-BW
Light Duration: 10 Hours
Mounting: Hardware Included
Height: 20.5 in.
Width: 9.5 in.
Warranty: 2 Years

Solar Royal Lamp with Post Top Mount
2700 Kelvin - 120 Lumens - Weathered Bronze - Gama Sonic GS-98B-P-WB
Family: Royal
Color Temperature: 2700 Kelvin
Light Duration: 8 Hours
Mounting: Hardware Included
Type: LED
Solar Powered Landscape Light Fixtures
These post top lamp fixtures fully charge in a matter of hours, turn on automatically at dusk and, operate for up to 8 hours without the use of electricity. Most of these fixtures include a mounting kit with three mounting options: wall mount, post top, and flat surface. Available in a wide range of color temperatures, color finishes, sizes, and styles, you're sure to find the right solar powered post top lamp fixture for your outdoor lighting design. Our selection of post top lamps includes mounting hardware, battery pack, and solar LED light bulb, if used. Need help finding the solar powered landscape lighting fixture you're looking for? Call us at 1-800-624-4488 to speak to our team of lighting experts.