Pathway Lights - Garden Pathway Lights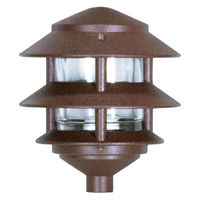 Nuvo 76-632 - Pagoda Pathway Light
75 Watt Max. - 2 Louver - Small Hood - Old Bronze Finish - 120 Volt
Lighting Technology: Halogen, Incandescent, LED
Bulb Shape: A19
Safety Rating: UL Wet Location
Maximum Wattage: 75 Watt
Voltage: 120
Bulbs Included: No
Finish: Old Bronze
Socket Type: Medium (E26)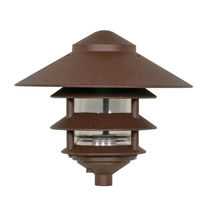 Nuvo 76-637 - Pagoda Pathway Light
100 Watt Max. - 3 Louver - Large Hood - Old Bronze Finish - 120 Volt
Lighting Technology: Halogen, Incandescent, LED
Bulb Shape: A19
Safety Rating: UL Wet Location
Maximum Wattage: 100 Watt
Voltage: 120
Bulbs Included: No
Finish: Old Bronze
Socket Type: Medium (E26)
Pathway Lighting Placement
Pathway lights are an inexpensive way to boost the curb appeal of your home, especially when staging a home for sale. Not only can they freshen up your entryway and lawn, the right fixtures along a walkway are both functional and decorative. By placing them in a flower bed, it blends the lighting in with the other elements of your garden. Pathway lighting increases visibility on your property and is popular along the steps to the front door, along the driveway, and along walkways. They can also be used along flowerbeds and around trees or fountains to highlight areas of the yard. When placing the lights, put them so at least some of the light falls on the path and not just on the surrounding flowers. Whether you want half the light on the path or a little less, it's really personal preference.
How Much Light Do You Need?
The Lighting Research Center recommends a minimum of 300 Lumens per square foot for paths and 1000 Lumens for your front door. Lights from 2700-3500 are recommended to give that soft white glow instead of a more intense blue. The number of fixtures you need and how far apart you space them needs to take that into account. You don't want them so close together or so bright that your front walkway looks like an airport landing strip. Nor do you want the path lights so spread out that you end up with splotches of light and no discernable path.
Types of Pathway Lights
Low voltage (12 Volt) fixtures are best, especially for residential applications. The low voltage means there's no danger of electrical shock if someone accidentally cuts the buried cable. Mow and let your kids dig for buried treasure with confidence. You also have some options regarding the type of light source. While no pathway lighting gets excessively hot, halogen lighting does get warmer than incandescent or LED. If you have close flowers or very close grass, there is a small chance of browned spots or dried out petals if the plants get too close. LED pathway lighting may be more expensive up front, but lasts substantially longer. This means you're not replacing bulbs or fixtures nearly as often. LED ready lights do not come with a light bulb, giving you more flexibility in which LED bulb you use. To see which type of bulb and size base you need, check the PDFs or specifications on the product pages. If you're still not sure, give us a call and one of our lighting experts will help you find the right lights.